Update 2022-05-02: One Valdosta-Lowndes funding, Hayden Park rezoning @ LCC 2022-04-26.
At the Lowndes County Commission Work Session this morning, by far the longest at six minutes: 7.i. Historic Lowndes County Courthouse Rehabilitation Project GMP.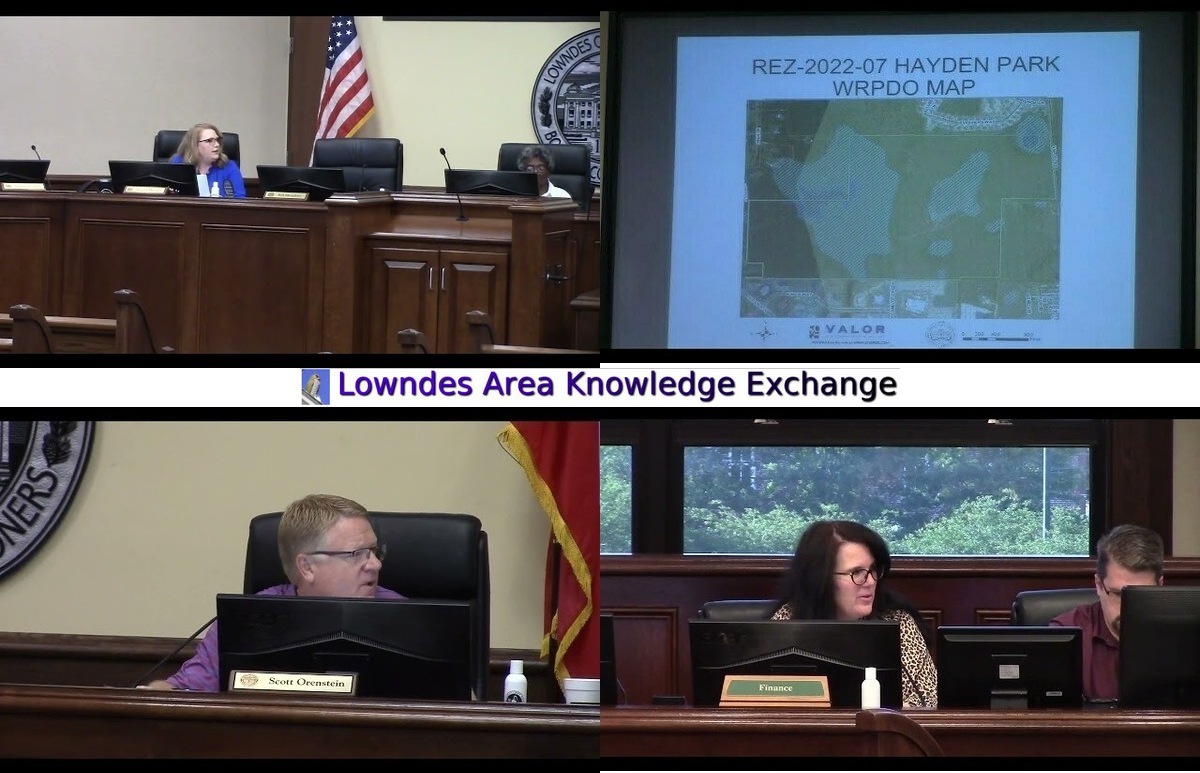 Courthouse, Hayden Park, OVL, TEqBID
Second longest at four minutes was the back-again contentious 6.a. REZ-2022-07 Hayden Park, ~149 acres, from R-1 to C-G, P-D, and R-10.
Third at two minutes was the $200,000 to 7.a. One Valdosta Lowndes Community-Wide Initiative, presumably mostly for hiring an Executive Director, though one hopes also some funding towards projects like the Troupville River Camp that was top of the list OVL presented to the County Commission back in November. Not clear whether the $200,000 is per year or for the entire five-year project. Vice-Chair Scottie Orenstein said VSU President Dr. Carvajal and Georgia Power's Scott Purvis will be present at the Regular Session tomorrow evening. Nothing was said about the Chamber, to whom OVL is being handed, being present tomorrow evening.
Commissioner Scottie Orenstein chaired the meeting in the absence of Chairman Bill Slaughter. If the Chairman is back at tomorrow evening's Regular Session, let's hope Commissioner Orenstein recuses himself on the appointment of his wife to 5.a. Lowndes County Division of Family and Children Services (DFCS) Board. This morning Commissioner Orenstein appeared to speak for the developer on 6.a. REZ-2022-07 Hayden Park, ~149 acres, from R-1 to C-G, P-D, and R-10. Meanwhile, answering a question from Commissioner Demarcus Marshall, Orenstein said nobody had met with the opposition.
Below are links to each LAKE video of each agenda item, with some notes by Gretchen Quarterman, followed by a LAKE video playlist. See also the agenda and board packet.
Here's a LAKE video playlist:

$9 Million Courthouse renovations, Subdivision at N. Valdosta Road & Val Del @ LCC 2022-04-25
Lowndes County Commission Work Session, Valdosta, Lowndes County, Georgia, April 25, 2022
Videos by Gretchen Quarterman for Lowndes Area Knowledge Exchange (LAKE).
-jsq
Investigative reporting costs money, for open records requests, copying, web hosting, gasoline, and cameras, and with sufficient funds we can pay students to do further research. You can donate to LAKE today!
Short Link: