You can't see the Special Presentation by Attorney Haynes Studstill on Opioid Litigation (Work Session) because Gretchen was not there with the LAKE video camera yesterday morning, and the agenda says it's only in the Work Session. Lowndes County does video its own County Commission meetings, but they haven't posted the video of that yet. Meanwhile, the City of Valdosta did decide to join a lawsuit against big pharma about opioid addiction. Another county legal item for tonight is FY2019 Juvenile Justice Incentive Grant Program Request for Proposals (RFP).
They're doing an Update to the Lowndes County Thoroughfare Plan, which is for: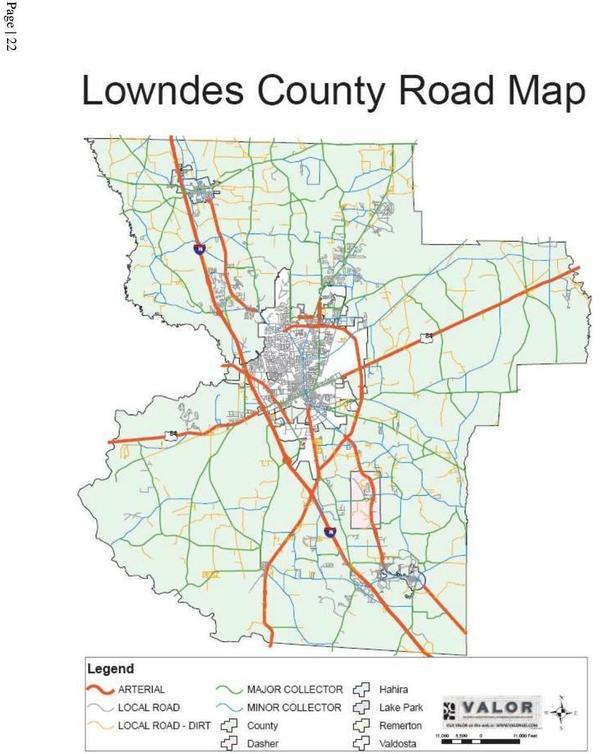 Road Map, 2009 Lowndes County Thoroughfare Plan.
HISTORY, FACTS AND ISSUES: The Lowndes County Board of Commissioners first adopted the Thoroughfare Plan in 1983. Since then, the Thoroughfare Plan has been revised numerous times to add new roads, update road classification status, as well as adding a component for bicycle routes.

Currently, the Thoroughfare Plan is used as a guide when road improvement projects are proposed and/or developed. The Thoroughfare Plan is also consulted when private developments and land use changes are evaluated.

Average development densities are calculated for a 20-year horizon in accordance with the planning period for the Urban Service Area. These calculations are then used to estimate traffic volumes and to assign road classifications.
The most recent update to the Thoroughfare Plan I can find online (via google; it's not linked on the County Planning or Engineering web pages) is dated 2009, which is when the county reclassified Quarterman Road (and many others) from local to minor collector on the basis that within 20 years it might have enough traffic "if it were developed", despite the Greater Lowndes 2030 Comprehensive Plan showing the same neighborhood as agricultural through 2030.
The County Engineer was more clear as to its purpose back then:
[The Thoroughfare Plan] works as a guide for development and potential use changes in property.
Roads drive development. Reclassifying a road higher means the county wants more development there. Where is the process for that? Where are the numerous revisions Where is the list of proposed reclassifications? Where are the other changes proposed?
They are also building an Old Quitman Road Bridge Replacement (no, not Spook Bridge; a railroad bridge; see previous post), and resurfacing four County roads (Howell Road, Knights Academy Road, Rocky Ford Road, and Shiloh Road) with the county paying an unspecified "remaining amount", which is maybe the difference between the $1,128,703.70 GDOT pays and whichever bid the county accepts ($1,605,425,96 Reames or $1,582,919.75 Scruggs).
The rezoning cases to be voted on tonight at 5:30 PM are the ones from the March 26th Planning Commmission meeting; see the LAKE videos of that meeting.

REZ-2018-08, Hughes, Lakeland Highway, in LAKE videos of GLPC 2018-03-26
Here is the agenda:
LOWNDES COUNTY BOARD OF COMMISSIONERS
PROPOSED AGENDA
WORK SESSION, MONDAY, APRIL 9, 2018, 8:30 a.m.
REGULAR SESSION, TUESDAY, APRIL 10, 2018, 5:30 p.m.
327 N. Ashley Street – 2nd Floor
-jsq
Short Link: