Update 2019-07-21: LAKE videos and still pictures.
Alcohol and the economy, on the agenda for this morning's Special Called Meeting of the Development Authority. I think I'll go to see Brad Folsom as the new Mary Gooding.
Valdosta-Lowndes County Development Authority
Agenda/Special Called Meeting
Wednesday, February 7, 2018, 11:30 am
Industrial Authority Conference Room
103 Roosevelt Drive

Call to Order

For the purpose of voting on amended Economic Development Agreement and Lease Agreement for GA Beer Company

Adjourn Special Called Meeting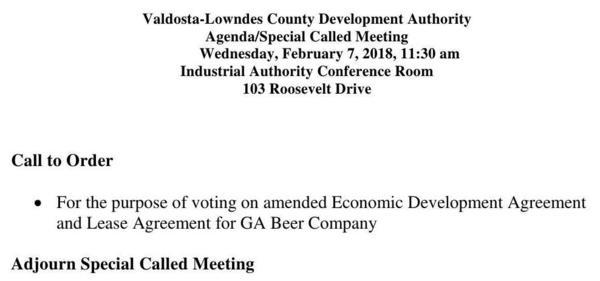 Georgia Beer Company's website says "We are not open for business yet", but its contact page says "Say hello to the first Georgia brewery in Valdosta." They also have a facebook page. Neither of which says where they will be located. So, VLCIA, in one of your numerous mostly-empty business parks, or elsewhere?
Looks like GA Beer Co. had a kickstarter fundraiser a couple of years ago, which says they all met at VSU.
Presumably this is the same Community and Economic Development Strategy recently approved by the Lowndes County Commission.
-jsq
Investigative reporting costs money, for open records requests, copying, web hosting, gasoline, and cameras, and with sufficient funds we can pay students to do further research. You can donate to LAKE today!
Short Link: