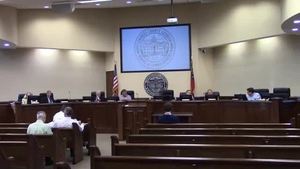 The tire amnesty went well, and added to the agenda: a county resolution in support of HR 158 in the Georgia legislature, to stop state fee diversions.
The County Manager reminded them they had heard about the Community and Economic Development Strategy a few months before (apparently under another name), and there was some confusion about Georgia Power's continued involvement.
Below are links to each LAKE video with a few notes, followed by a LAKE video playlist. See also the agenda and the notes in it.
5.a. Abandonment of a Portion of Bradford Road N.

Video. Afterwards I congratulated County Engineer Mike Fletcher on digging through the county records from 1987, back when the county "took some additional right of way to realign Bradford Road North" where it originally interconnected with Boys Ranch Road. He did not find any official closing of that section of road, so he proposes the county now go through the formal process of closing and abandoning that former section of Bradford Road. Previously, the County Commission apparently only voted to accept the new right of way and realign the road.

5.b. Special Assessment Rate for 2018

Video. Finance Director Stephanie Black said this is a housekeeping item required by state law.

5.c. Beer & Wine License — …JK Food Mart — 3663 New Statenville Hwy., Valdosta, GA

Video. Finance Director Stephanie Black said this establishment is one they've had "issues" with before, but this is a new owner.

5.d. Community and Economic Development Strategy

Video. County Manager Joe Pritchard, consistently using (the royal?) "we", reminded the Commissioners that "several months ago" they had heard about a proposed Memorandum of Understanding (MoU) and $25,000 to fund it. That was November 14, 2017, as 7.n. Georgia Power VisionFirst. Commissioner Mark Wisenbaker this time wanted to know if there was any complication since the Georgia Power rep., "Mr. Manley", who had been dealing with that had left. Presumably this was Jason Manley, South Region VP, Georgia Power; here's a brief bio about him. Chairman Bill Slaughter said there would be no effect, since Ms. Audrey King was the local rep. now and she was up to speed on this process.

I thought she had been the local rep. for some time now. Hm, she lists herself as Macon, Georgia, Area Manager, Georgia Power, and she's listed by the Valdosta-Lowndes County Chamber of Commerce with a Valdosta address. I guess this was a handoff from a VP to an area manager. Statesboro Magazine says she's also (as of July 2017) Area Manager for the Statesboro Region.

Presumably this is the 2013-2018 Comprehensive Economic Development Strategy (CEDS) that the VDT says the Southern Georgia Regional Commission (SGRC) recently adopted.

5.e. Stop Loss Insurance Coverage Through Blue Cross Blue Shield of Georgia

Video. H.R. Director Kevin Beale refered to details and a tally sheet that are not visible to the public.

6. Reports — County Manager: Tire amnesty

Video. County Manager Joe Pritchard said this was the second annual tire amnesty. Public Works Director Robin Cumbus said they collected a semi-full of 5,000 tires. The Chairman wanted to know if they should do it again. She said yes, if the grant is available.

Chairmanr: Add to agenda resolution supporting GA H.R. 158

Video. Chairman Bill Slaughter said "there's been a request that has been brought before the Commission for us to support a draft resolution in regards to House Resolution 158". He asked for a motion to add it to the agenda. Commissioner Mark Wisenbaker made the motion. Commissioner Orenstein seconded. Not clear they actually voted, but the Chairman said it was added to the agenda.

Afterwards I thanked the Chairman, and noted that this is the same resolution that has already been passed by Lanier County 2018-01-08, the City of Adel 2018-01-16, and Atkinson County 2018-01-18, plus it is on the agenda for Valdosta and Hahira. He said we need it.

For example, also November 14, 2018, the Commissioners approved a grant application for state funding to monitor the old closed county landfill. If I'm not mistaken, that grant comes from the same state Hazardous Waste Trust Fund that has had upwards of 40% of its fees diverted to the General Fund. So if these fee diversions can be stopped, there might be more funds available for grants such as that.

The camera glitched at adjournment, so there's no video of that, although it wasn't very interesting anyway.
Here's a LAKE video playlist:

Videos: Resolution against state fee diversion, economic strategy, road abandonment
Work Session, Lowndes County Commission (LCC),
Video by Gretchen Quarterman for Lowndes Area Knowledge Exchange (LAKE),
Valdosta, Lowndes County, Georgia, January 22, 2018.
-jsq
Investigative reporting costs money, for open records requests, copying, web hosting, gasoline, and cameras, and with sufficient funds we can pay students to do further research. You can donate to LAKE today!
Short Link: