Stafford Wright Road is getting its 12″ water main, connecting all the way from Spring Creek subdivision off of Studstill Road to Val Del Road. That's Nelson Hill on the center left and Foxborough lower left: subdivisions like that are what to expect on Stafford Wright Road soon.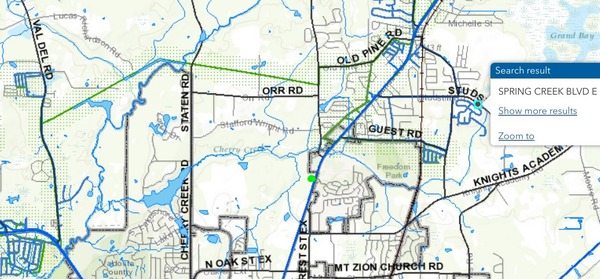 Map: VALORGIS. Green is Lowndes County sewer line; blue is water mains.
This appears to be another no-bid contract, this time for $96,750.
The county in July just spent $27,750 on a pump and motor for Spring Creek which they said was an emergency because it was running 24 hours a day.
Back in February at their planning session they discussed this as part of their desired complete loop among the major county water systems (except Lake Alapaha).
Speaking of Lake Alapaha, three years ago (2014) they bought about $1.5 million of new equipment for both Lake Alapaha and Spring Creek from the same Lovell Engineering that got a $60,000 no-bid contract for Lake Alapaha the previous year (2013) and is getting the no-bid contract this week.
Also on the agenda is reappointing Dr. Mark J. Eanes to the Lowndes County Board of Health, and REZ-2017-11 Arrow Engineering Office that the Planning Commission last month recommended denying by a 5:2:1 vote. I even spoke against it.
LOWNDES COUNTY BOARD OF COMMISSIONERS
PROPOSED AGENDA
WORK SESSION, MONDAY, NOVEMBER 13, 2017, 8:30 a.m.
REGULAR SESSION, TUESDAY, NOVEMBER 14, 2017, 5:30 p.m.
327 N. Ashley Street – 2nd Floor
-jsq
Investigative reporting costs money, for open records requests, copying, web hosting, gasoline, and cameras, and with sufficient funds we can pay students to do further research. You can donate to LAKE today!
Short Link: