These 1.0 megawatts (MW) of solar panels across from the old closed Evergreen Landfill will soon feed the new Withlacoochee Wastewater Treatment Plant (WWTP) a short distance up the same Wetherington Road. To get the electricity there, a power line will either have to be bored underground or put on poles overhead; that's as yet undecided.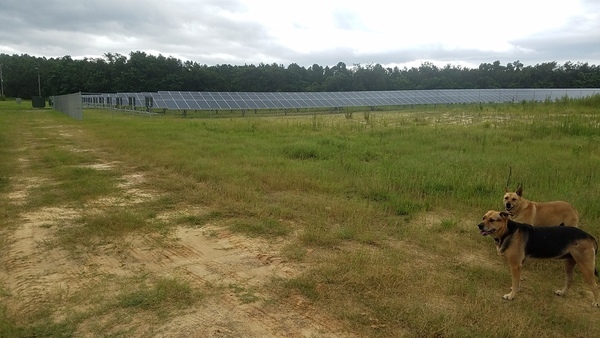 Photo: John S. Quarterman for LAKE, 25 July 2017
Another solar field, started a couple of weeks ago, will be on land right to the WWTP, for another 275 KW.
This is according to William "Ricky" Cornelius, Plant Superintendent at the new WWTP, aka Withlacoochee WPCP. He also said they have the same deal with Colquitt EMC I do: they pay the EMC 10 cents per kilowatt hour (kwh) and the EMC pays them 4.5 cents. So whatever the WWTP uses directly is gravy, but if they produce more than they use, they get a low rate from CEMC. This is the same "avoided rate" scheme all the electric utilities in Georgia use for paying for locally-generated electric power.
Also, on the Valdosta City Council agenda for 5:30 PM tomorrow, Thursday, 10 August 2017:
6. Bids, Contracts, Agreements and Expenditures
a) Consideration of Easement Agreements with Georgia Power for solar arrays on Val Tech Road at the old landfill near Valdosta State Prison and at the Police Department firing range.
Or should that say Wiregrass Technical College Highway?
In addition to the solar arrays Valdosta is building, there are also ones at the airport, and at Langboard; stay tuned.
-jsq
Investigative reporting costs money, for open records requests, copying, web hosting, gasoline, and cameras, and with sufficient funds we can pay students to do further research. You can donate to LAKE today!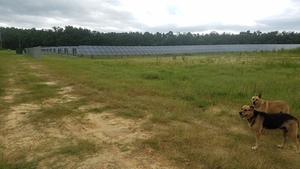 Solar panels with reference dogs 30.8226119, -83.3595080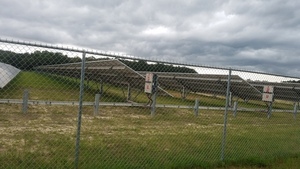 Solar panels 30.8234175, -83.3595684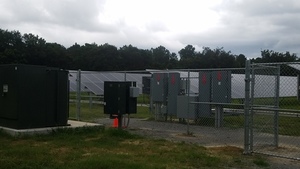 Solar electrical equipment 30.8234029, -83.3596398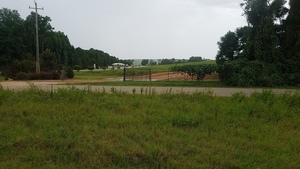 Across Wetherington Road to closed Evergreen Landfill 30.8226119, -83.3595080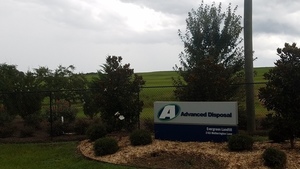 Old Mount Trashmore 30.8223685, -83.3597960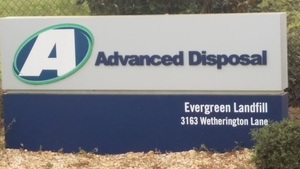 Advanced Disposal, Evergreen Landfill, 3163 Wetherington Lane 30.8223694, -83.3597911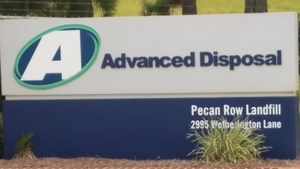 Closeup, Advanced Disposal, Pecan Row Landfill, 2995 Wetherington Lane 30.8162757, -83.3598545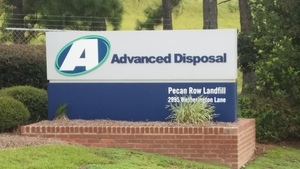 Advanced Disposal, Pecan Row Landfill, 2995 Wetherington Lane 30.8162757, -83.3598545
Short Link: