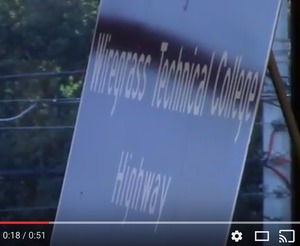 Emergency Management Director Ashley Tye gave a preview of the West Mims Fire Special Presentation that will be tonight at 5:30 PM by someone from the Charlton County Commission.
Looks like another no-bid special contract award, this time to Lovell Engineering, without even the excuse of an emergency.
They have signs made for Wiregrass Technical College Highway. Two out of three (not Creekside) Special Tax Lighting Districts may be ready to vote on tonight.
If you have any other plumber to propose for the Valdosta-Lowndes County Construction Board of Adjustments and Appeals, get that name to them before tonight; they've already got one name.
A month ago there was a question about end of life for radios, and this time there's a request to buy radios to phase out old ones, and more about maintenance contracts to save money.
Below are links to each LAKE video, with a few notes, followed by a LAKE video playlist. See also the agenda.
Here's a LAKE video playlist:

Videos: Construction Board, 3 tax lighting districtcs, mosquitoes, radios, roads, and truck
Work Session, Lowndes County Commission (LCC),
Video by Gretchen Quarterman for Lowndes Area Knowledge Exchange (LAKE),
Valdosta, Lowndes County, Georgia, August 7, 2017.
-jsq
Investigative reporting costs money, for open records requests, copying, web hosting, gasoline, and cameras, and with sufficient funds we can pay students to do further research. You can donate to LAKE today!
Short Link: