The long-awaited animal tethering ordinance will be heard Monday morning and voted on Tuesday evening, as part of an Animal Welfare Ordinance. They're going to reappoint Joyce Evans and Frank Morman to the Landbank Authority.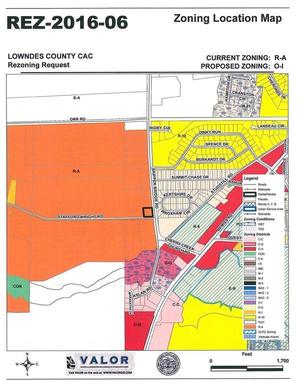 They last reappointed those two 27 March 2012, so apparently they serve four-year terms.
Despite the public not knowing there was an opening on the Georgia Department of Behavioral Health and Developmental Disabilities Board, they've already picked who they're going to appoint: Chris Yarbrough. What he sent in his application, we don't know, but his LinkedIn profile says he's a "Community Supervision Officer III Mental Health Specialist, Georgia Department of Community Supervision, May 1996 – Present (19 years 11 months) Valdosta, Ga."
Per LAKE open record request, here are the packet items for the Children's Activity Center (CAC) rezoning on Skipper Bridge Road, REZ-2016-06, as sent to the 2016-02-29 29 Planning Commission Regular Session. There may have been additions or changes since then. Some day the county will put such things on its own website so the taxpayers and voters can see. I can see one addition to the agenda sheet:
At their February regular meeting the GLPC reviewed this request and ultimately recommended for its approval by an 8-0 vote. A representative of the applicant spoke for the request and no one spoke against ii.
Two items about Copeland Road: Surveying and Engineering Service for Sidewalks along Copeland Road so Lowndes Middle School students don't have to walk along the edge of the pavement, and Public Right of Way Acknowledgment Form – Copeland Road, which last involves contracting with Georgia Southern and Florida Railway Company "to address pipe needed for the Copeland road Project. Any cost mentioned in the agreement will paid by the developer." Not clear who "the developer" is.
Here's the agenda, which also includes four alcohol items, two Tax Assessors items, a Leila Ellis Building lease to Wiregrass Tech.
LOWNDES COUNTY BOARD OF COMMISSIONERS
PROPOSED AGENDA
WORK SESSION, MONDAY, MARCH 7, 2016, 8:30 a.m.
REGULAR SESSION, TUESDAY, MARCH 8, 2016, 5:30 p.m.
327 N. Ashley Street – 2nd Floor
-jsq
Short Link: