Finally with the agenda for tonight's Planning Commission, case codes and an address for the 3-in-1 Bemiss Road rezoning, but still no address for the CAC Skipper Bridge Road rezoning, and none of the board packet: no maps, text, nothing else on Lowndes county's website, for tonight's 6PM Planning Commission Regular Session.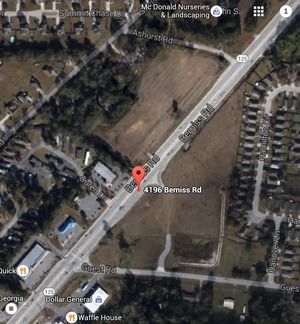 That Valdosta three-part case includes an annexation request. The agenda says it's for Gusto Development, but no such company is registered with the Georgia Secretary of State. Maybe they mean Gusto GA Valdosta (Guest), LLC, registered "12/8/2015" with Principal Office Address: 736 Cherry St., Chattanooga, TN, 37402, USA. That's the address of The Hutton Company, "We Know Dirt; Real Estate Development Construction". The land is owned by Bassford Properties LLC, as noted in the previous post with the LAKE videos of the previous week's Work Session, which shows what little the public was allowed to know, such as that it's for a grocery store and a gas station. This might be a clue as to which company: Alex Green, timesfreepress.com, 9 November 2014, 3 new grocery stores coming to Chattanooga, and they may be Wal-Marts,
Wal-Mart Neighborhood Markets, first introduced in 1998, are only one-fourth the size of a typical Walmart Supercenter in the United States and offer about 28,000 grocery items.

A developer who has built Neighborhood Markets around the South is seeking rezoning for three new grocery outlets in Chattanooga. The company, Polestar Development, is a subsidiary of the Chattanooga-based Hutton Co., and looking to build at an old community pool lot in East Ridge, on a flat lot tucked between Heritage Park and an old strip mall off East Brainerd Road and at a grassy, flat lot next to a church in a flood-prone area between Brainerd and the sprawling retail district of Highway 153.
Sounds very similar to this Bemiss Road site just north of Cherry Creek. And Hutton Co. built a Wal-Mart in Athens, GA, too.
Greater Lowndes Planning Commission
Lowndes County City of Valdosta City of Dasher City of Hahira City of Lake Park
REGULAR MONTHLY MEETING
AGENDA
Lowndes County South Health District Administrative Office
325 West Savannah Avenue
Monday, February 29, 2016 * 5:30 P.M. * Public Hearing

Approval of the Meeting Minutes: January 25, 2016

FINAL ACTION by the Lowndes County Board of Commissioners
Tuesday, March 8, 2016
Lowndes County Judicial and Administrative Complex
Commission Chambers, 2nd Floor
327 North Ashley Street, Valdosta, Georgia
5:30 p.m.
Point of Contact: Jason Davenport, County Planner, (229) 671-2430

REZ-2016-03 Lowndes County Children's Advocacy Center Property Location: Skipper Bridge Road, Valdosta, Georgia
Request to rezone 1 acre from R-A (Estate Agriculture) to O-I (Office Institutional)

FINAL ACTION by the City of Valdosta Mayor-Council
Thursday, March 10, 2016
Valdosta City Hall, 216 E. Central Avenue, Valdosta, Georgia
Council Chambers, 2nd Floor 5:30 p.m.
Point of Contact: Matt Martin, City Planning and Zoning Administrator (229) 259-3563

VA-2016-03 Gusto Development
Property Location: 4196 Bemiss Road
Request to rezone a total of 9.18 acres from Planned Commercial Development (PCD) and Highway Commercial (C-H) to Community Commercial (C-C)
VA-2016-04 Gusto Development
Property Location: north side of Guest Road, about 200′ east of Hanover Lane
Request to rezone 0.645 acres from Planned Development (P-D)(county) to Community Commercial (C-C)(city)
VA-2016-05 Gusto Development
Property Location: north side of Guest Road, about 200′ east of Hanover Lane
Request to "annex" 0.645 acres from Lowndes County to the City of Valdosta
-jsq
Short Link: