The Planning Commission meets Monday evening to consider those ULDC amendments,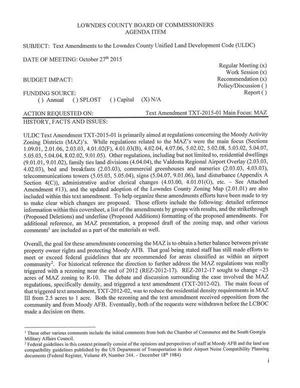 so county staff will recommend to the County Commission at their Monday 8:30 AM Work Session that they table the MAZ text changes at their Regular Session Tuesday 5:30 PM evening. Meanwhile, the Air Force wants to maintain the road rights of way for Davidson Road and along Grassy Pond. And the Land Bank Authority wants to appoint some more members, acording to "the attached resolution" which of course we the taxpayers aren't allowed to see without an open records request.
Elected Probate Judge McDowell can appoint a part-time associate judge, but she needs the county commission to approve funding the salary. The DA wants to continue a Victims of Crime Act Victims Service grant.
Annual renewal of health care service provider and Section 125 Plan Document.
Two more Lift Station (sewage) pumps, at Val-Tech new for $20,076.42 and at Whitewater repairs for $13,353.65.
Finally, bids for Disaster Related Debris Removal Proposals required by FEMA, plus the usual beer, wine, and liquor licenses.
All that in the agenda.
LOWNDES COUNTY BOARD OF COMMISSIONERS
PROPOSED AGENDA
WORK SESSION, MONDAY, October 26, 2015, 8:30 a.m.
REGULAR SESSION, TUESDAY, October 27, 2015, 5:30 p.m.
327 N. Ashley Street – 2nd Floor
-jsq
Short Link: