Even the Nuclear Regulatory Commission (NRC) has finally noticed that Entergy's Indian Point nuke, already famous for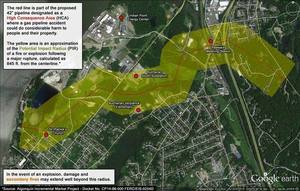 falsified records, catching fire and leaking oil into the Hudson River, plus being on a fault line, not has Spectra's Algonquin Incremental Market (AIM) fracked methane pipeline aimed at it. Stop the Algonquin Pipeline Expansion (SAPE), Special meeting of the Nuclear Regulatory Commission on AIM Pipeline,
Nuclear Expert Paul Blanch to Present Critical New Information about Dangerous Siting of Spectra AIM Pipeline Next to Indian Point Nuclear Power Plant

On Wednesday, July 15th at 2:00 PM nuclear expert Paul Blanch will preview critical new information about the Spectra AIM Pipeline and then make a formal presentation to a special meeting of the Nuclear Regulatory Commission (NRC) Petition Review Board.

Media is invited to the preview press conference and then to listen to Mr. Blanch and pipeline expert Richard Kuprewicz present to the NRC Petition Review Board.

Following the NRC Presentation, there will be an opportunity for questions. Media is also invited to tour the proposed pipeline site before and/or after the presentation.

What: Preview of Paul Blanch's presentation to Nuclear Regulatory Commission Petition Review Board followed by NRC Presentation and Q&A.

Where: Hendrick Hudson Library; 185 Kings Ferry Road, Montrose, NY 10548

When: Wednesday, July 15th at 2:00 PM

Who: Paul Blanch, Nuclear Expert Richard Kuprewicz, National Pipeline Safety Expert Assemblywoman Sandy Galef

Schedule:
2:30 PM: Blanch and Kuprewicz Present to NRC (via phone conference)
3:30 PM: Media Q&A with Blanch and Kuprewicz

Visuals: Guided tour of proposed pipeline site near Indian Point Energy Center prior to or following the presentation at the library, from 1:15-1:45 p.m or 4:30 p.m.- 5:00 p.m. Please park along Broadway heading south, past the last Entergy sign, and look for guides.

Background:
Spectra Energy has received approval by the Federal Energy Regulatory Commission to build a new 42 inch diameter high pressure gas pipeline in close proximity to vital structures at the Indian Point nuclear power plant, as part of the Algonquin Incremental Market Project. Mr. Blanch, a nuclear expert, and Mr. Kuprewicz, a pipeline safety expert, will reveal that the risk assessment used as the basis for approval of the AIM project must be negated because the Nuclear Regulatory Commission knowingly used erroneous information, not based on sound science, to improperly evaluate the plant's ability to achieve failsafe shutdown in the event of a pipeline rupture.
-jsq
Short Link: