Photo: Ricky Flores/The Journal News
A fire and shut down of Indian Point 3 didn't even make the front page of the New York Times, and no mention that Spectra Energy wants to build its 42-inch fracked methane Algonquin Incremental Market (AIM) only 1,500 feet from Indian Point. Plus an oil leak, all next to the Hudson River. Meanwhile, Oyster Creek (NJ), Three Mile Island 1 (PA), and Farley (AL) are all down, and numerous fire prevention deficiencies were reported for Hatch 1 and 2 (GA). When did you last hear of a solar leak or explosion?
Matt Spillane, lohud, 10 May 2015, VIDEO: Transformer fire, oil leak at Indian Point Energy Center,
The transformer on the side of the turbine building caught fire around 6 p.m., shutting down Unit 3 at the nuclear power plant on the Hudson River, Entergy, which owns and operates the power plant, said on its Twitter account….

After being extinguished the fire was "apparently reignited" by the heat of the transformer, Cuomo said. Asked if all protocols worked properly in response to the fire, he said he was "not prepared to say that yet."

"This was a relatively minor situation, but when you're talking about a nuclear power plant there are no really minor situations," Cuomo said, calling the plant "controversial" because it is "a stone's throw from one of the most densely populated urban areas on the planet. So it is inherently problematic."

"We've had too many emergencies of late," Cuomo added. "These situations are very important, and again, I take nothing lightly when it comes to this plant specifically."
Liam Stack, New York Times, 9 May 2015 Transformer Burns at Indian Point; Cuomo Cites Potential Environmental Risks,
"There is a lot of foam and a lot of oil and now we are worried about that leaking in to the Hudson River," [Gov. Cuomo] said. Foam or oil could enter the river through storm drains, he said.
Meanwhile, the Nuclear Regulatory Commission (NRC) Current Event Notification Report for May 8, 2015 (NRC doesn't post reports on weekends) says even less:
OFFSITE NOTIFICATION DUE TO SHUTDOWN FOR AN UNISOLABLE STEAM LEAK

"At 0700 on 5/7/15, Indian Point Unit 3 commenced a shutdown due to the inability to isolate a steam leak on a feedwater instrument line.

"Offsite power is available.

"Indian Point Unit 2 is unaffected and remains in Mode 1 at 100% power.

"The NRC Resident Inspector, the NYISO (New York Independent System Operator), and NY Public State Commission have been notified."
And that's not the only reactor down today. The same report says of Oyster Creek 1 in New Jersey:
AUTOMATIC REACTOR SCRAM DUE TO TURBINE TRIP

"Today at 1727 EDT, an automatic scram from a turbine trip occurred. The cause of the turbine trip is currently under investigation. All rods inserted into the core and all systems functioned as expected during the scram.

"The event is reportable within 4 hours per 10CFR50.72(b)(2)(iv)(B)—any event or condition that results in actuation of the reactor protection system (RPS) when the reactor is critical except when the actuation results from and is part of a pre-planned sequence during testing or reactor operation."

Plant response to the scram was uncomplicated and the plant is stable in Mode 3.

The licensee has notified the NRC Resident Inspector.
Nevermind that NRC reported 28 January 2015 after inspection of Oyster Creek:
The NRC inspectors did not identify any findings or violations of more than minor significance.
Three Mile Island 1 isn't in the latest Current Event Notification Report, although NRC data shows TMI1 dropping from 100% power; see the black line: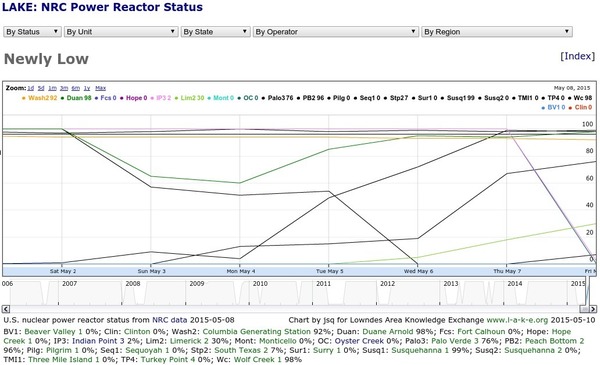 For Farley and Hatch, see other post.
Solar power is faster, cheaper, and far cleaner to install, and doesn't leak or explode. Now that energy storage solutions are getting in gear, the old baseload-capacity excuse for nuclear also goes away. The century of fossil fuels and nukes is over. It's the era of sun, wind, and water power now.
-jsq
Short Link: