See the LAKE video below, the WALB story by Colter Anstaett including interviews with Cary Scarborough of Deep South Sanitation and Steve Edwards of Advanced Disposal Services. The county actually posted the resulting Solid Waste Ordinance on their County Ordinances web page (although I don't see the updated franchise agreement anywhere), and they even posted the results of that meeting. Neither the county's results summary nor WALB mentioned Commissioner Marshall's question about recycling glass nor Chairman Slaughter's response that glass can be disposed of as ordinary trash, which means they're not going to recycle it.
Here's the paper agenda from the meeting and the county's results summary:
As a result of the Special Called Meeting the following documents were passed:

Agreement to Amend the Solid Waste Ordinance and Franchise Agreement
2015 Lowndes County Solid Waste Ordinance
Advanced Disposal (ADS) Franchise Agreement

Also, the Lowndes County Board of Commissioners is currently accepting applications for nonexclusive franchises to provide residential solid waste collection services for the unincorporated area of the County pursuant to the 2015 Lowndes County Solid Waste Ordinance adopted March 16, 2015.

The form of an Application for such a nonexclusive franchise and a copy of said Ordinance may be obtained from the office of the Board of Commissioners located on the third floor of the Administrative Building of the Lowndes County Judicial and Administrative Complex located at 327 North Ashley Street, Valdosta, Georgia.

Completed Applications should be submitted to Lowndes County Board of Commissioners, Lowndes County Judicial and Administrative Complex, 327 North Ashley Street, Valdosta, Georgia 31601, Attention: Kevin Beals.

Summary of Ordinance and Franchise

The term of ADS's franchise is one year, though March 2016.
ADS's franchise is nonexclusive.
The County will accept applications for additional franchisees.
Applications will be considered based on the criteria in the Ordinance.
Each Franchisee must provide basic service to any resident who requests it.
A Franchisee's fee for basic service must be uniform for all subscribers.

curbside collection of residential garbage
collection of recycling materials, yard waste, and bulky items either at curbside or at a collection center

Collection centers will be open Friday, Saturday, Sunday afternoon, and Monday.
ADS will operate the Pine Grove and Loch Laurel centers.
Other Franchisees could operate other collection centers.
Franchisees may provide additional services to subscribers for a uniform fee or fees.
Franchisees may also collect recycling materials, yard waste, and bulky items from customers other than its subscribers.
The Ordinance and Franchise also provide for back-door pick-up.
The maximum fee for basic service is $20. This set a ceiling that protects the public's interest.
That summary doesn't mention that ADS, as the operator of the landfill, can charge itself whatever it likes and charge something else to other franchisees, which makes it questionable whether another applicant such as Deep South Sanitation can compete.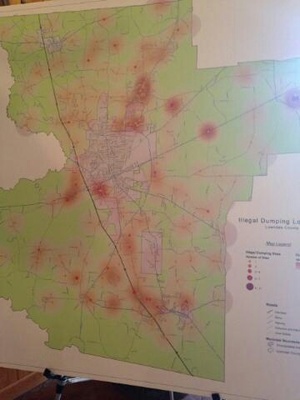 This was at a meeting on their calendar, but no agenda, it's another Special Called Meeting-Solid Waste Management. They did not talk about illegal trash dumping. We still don't know why it couldn't wait until their regular meetings the next week, or why it took almost two months to get back to this after the two meetings in January.
Here's a video playlist:

Videos: Hasty waste meeting
Solid Waste Management,
Special Called Meeting, Lowndes County Commission (LCC Waste),
Video by Gretchen Quarterman for Lowndes Area Knowledge Exchange (LAKE),
Valdosta, Lowndes County, Georgia, 16 March 2015.
They did talk about solid waste management at their 5 February 2015 retreat, and the Chairman's first goal the next day was Solid Waste. But neither the public nor the principal parties, Advanced Disposal Service (ADS) nor Deep South Sanitation (DSS), were permitted to speak at that retreat.
For that matter, there are still no minutes for either of the two January Solid Waste Special Called Meetings or for their February Annual Planning Meeting, although they have finally caught up with minutes for their Work Sessions and Regular Sessions.
-jsq
Short Link: