OPEC just pushed down oil and gas prices, and the main beneficiary will be Russia.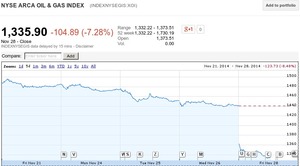 U.S. and other sanctions to punish Russia for invading Ukraine already pushed the ruble down, which makes Russian fracking less exposed to this price drop. Natural gas prices are falling with oil prices. So a big winner could be Siberian natural gas fracking for China. Which could nip U.S. LNG exports at their budding export terminals. Since LNG export is the most profitable market for fracked methane, the pipeline craze could go bust. And that could help the U.S. get on with cheaper, faster, safer, and far cleaner solar power.
Will Kennedy and Jillian Ward, Bloomberg, 27 November 2014, OPEC Policy Ensures U.S. Shale Crash, Russian Tycoon Says,
American producers risk becoming victims of their own success. At today's prices of just over $70 a barrel, drilling is close to becoming unprofitable for some explorers, Leonid Fedun, vice president and board member at OAO Lukoil (LKOD), said in an interview in London.

"In 2016, when OPEC completes this objective of cleaning up the American marginal market, the oil price will start growing again," said Fedun, who's made a fortune of more than $4 billion in the oil business, according to data compiled by Bloomberg. "The shale boom is on a par with the dot-com boom. The strong players will remain, the weak ones will vanish."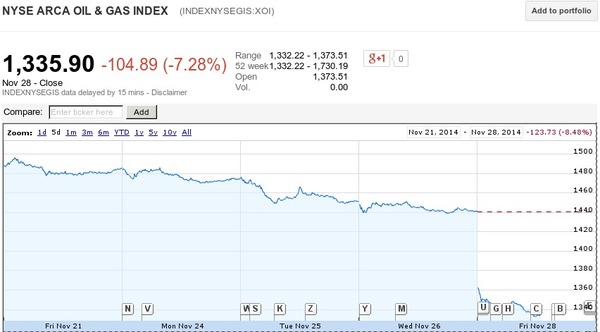 NYSE ARCA OIL & GAS INDEX (INDEXNYSEGIS:XOI)
Matt Egan, CNN Money, 28 November 2014, OPEC's message to US shale: Drop dead
The OPEC move has clearly spooked investors, who sent energy stocks like Halliburton (HAL), Helmerich & Payne (HP) and Schlumberger (SLB) plummeting on Friday. (U.S. markets were closed for Thanksgiving Day on Thursday). oil price drop

"I think there will be increased scrutiny of the balance sheets of the exploration and production companies. You'll see some of the weaker players fall out," said Tamar Essner, energy analyst at Nasdaq Advisory Services.
Hm, weaker players like FPL dabbling in Oklahoma fracking? The same FPL that co-owns Sabal Trail Transmission with Spectra Energy?
-jsq
Short Link: