Andrea Grover of Sabal Trail Transmission has been telling Florida landowners about another proposed pipeline route that completely bypasses Georgia. Received yesterday on Request pipeline town hall –Tim Bland to LCC:
For those that are against having the pipeline run through their property, go to Ocala Star Banner on the web where there is a map with the proposed route for the pipeline from Alabama to Florida. This route barely touches the southwest corner of Georgia (if at all). Why did Sabal change the route? I don't either. The newspaper is dated October 24, 2013.

-Ronald Kicklighter
Contracts for natural gas pipeline through Florida get initial OK, by Morgan Watkins for Ocala StarBanner picked up a story first run in the Gainesville Sun,
A $3.5 billion, 600-mile natural-gas pipeline system that will stretch from Alabama into Florida is still in the planning stages, but homeowners near the Ichetucknee and Santa Fe rivers are concerned because the routes being proposed might run through their neighborhoods.
Landowners in Georgia don't want it crossing their land or the Flint or Withlacoochee Rivers, either.
Florida Power & Light selected Sabal Trail Transmission to construct a pipeline that will wind from southwest Alabama through Georgia to a Central Florida hub, from which point another company will build a pipeline that runs into Martin County. The pipeline system should be operational by May 2017, FPL spokeswoman Sarah Gatewood said.

FPL selected Sabal Trail Transmission and the second company, Florida Southeast Connection, in late July, but it received the Florida Public Service Commission's approval of the prudence of its chosen contracts Thursday. Florida Southeast Connection is a subsidiary of NextEra Energy, FPL's parent company. Sabal isn't a subsidiary of NextEra, although NextEra did invest in Sabal's pipeline project, Gatewood said.
Here's Florida Southeast Connections's preliminary FERC filing (FP14-2)
and here's Sabal Trail's preliminary filing (FP14-1), which says all three shells (Sabal Trail, Transco, and FSC) expect to get a common environmental rubberstamp with a company called Merjent ghost-writing their Spectral document.
The Sabal Trail blueshirts told me that they had been holding two meetings a day, the others in Florida.
Sabal recently completed a series of informational meetings with landowners along its proposed pipeline corridor, Sabal spokeswoman Andrea Grover said. It will have another round of community meetings in December.
Here's the list of December Open Houses required by FERC (you can see how popular gas pipelines are elsewhere).
The company began conducting surveys along the corridor in September. The survey work analyzes the route's potential environmental impact among other issues.

The proposed route through North Florida was originally going to follow an overhead power line in the Columbia County area and cross the Ichetucknee River, Grover said. Now it will cross from Suwannee County into Gilchrist County by running underneath the bed of the Santa Fe River.

It will also run through about four miles of land in the southwest corner of Alachua County.

Sabal's proposed route isn't final and is still under review, Grover said. The company plans to submit a formal application to the Federal Energy Regulatory Commission for approval next year, which will include its preferred route as well as alternatives.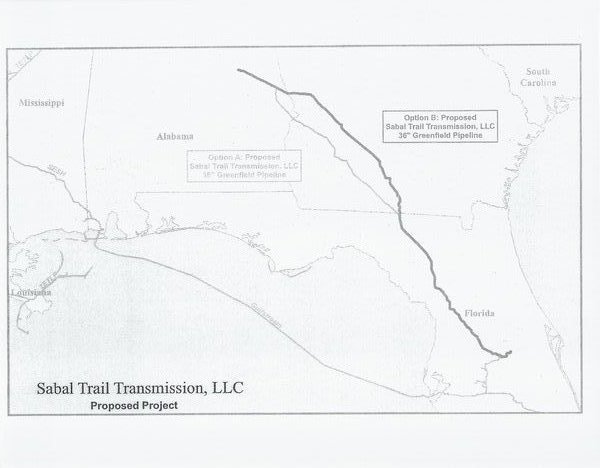 Oh, now we're up to plural alternatives, which is different from what Andrea Grover told me in Moultrie, which was that Sabal Trail would submit a preferred route and one alternative. Now we're up to three routes (or maybe four), one (or two) of which avoids Georgia entirely. Maybe we're scaring them away from Georgia.
And what if people along every route object? What then, Sabal Trail? Maybe you should get into the solar business; solar has a future.
-jsq
Short Link: