GSEA, GaSU, Georgia Power, and even me are quoted in a Georgia Trend feature about solar power in Georgia. As Mahatma Gandhi is alleged to have said when asked his opinion of western civilization: "that would be a good idea!"
Jerry Grillo wrote for Georgia Trend July 2013, Sun Dancing: As Georgia's solar capacity shoots skyward, a new state utility is proposed,
It's the sun, the sol of our solar system, to which everything that lives and moves, including the wind, owes its existence. Without the sun, there is no us, no Earth. You can't miss it. It's the biggest thing in the sky, the biggest thing for at least 24 trillion miles, and at 4.5 billion years old it is middle-aged and remains the most abundant source of power between here and Alpha Centauri, zapping our planet every minute with more energy than humanity can consume in a year.

The best thing is, the sun is free. Still, for most of those eons, capturing the sun's energy for human consumption has been like picking crops with a catcher's mitt.

But over the past few years, photovoltaic technology ("photo" for light, "voltaic" meaning electricity) has gotten way more efficient, and the previously prohibitive price has fallen dramatically, setting the stage for what's happening now in Georgia: Solar deployment and interest are increasing dramatically.

"This is a very dynamic time for solar energy, and it demonstrates a pent-up demand and interest in solar energy for Georgia," says Mark Bell, chair of the Georgia Solar Energy Association (GSEA) and president of Atlanta-based Empower Energy Tech-nology. "There's a great potential here for real, sustainable economic development."
Grillo was pretty thorough in getting a range of points of view (with the notable exception of Georgia Sierra Club), and the whole article is well worth reading.
Among the things I told Grillo back at the beginning of May, I'm especially glad he included this:
The idea grew out of GaSU's frustration with Georgia Power's (and other utility companies', like the EMCs') geographic monopoly, as prescribed under the 1973 Georgia Territorial Electric Service Act, which protects utilities from competition within their defined service areas.

"That territorial act is the biggest hurdle we have for deploying a real solar industry in Georgia," says Quarter-man, who likes the fact that HB 657 focuses on rural solar development, but he doesn't like the idea of another regulated utility monopoly, which is what the bill suggests.

It's hard to find anyone who does like the idea of a new monopoly.
Here's HB 657 annotated. And here's SB 51, also flawed, much closer to what we actually need.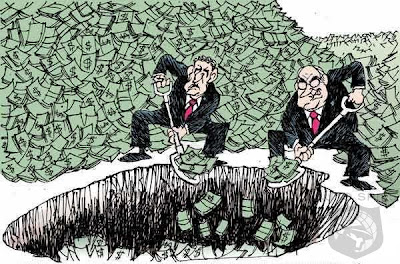 That plus HB 267 would stop Georgia Power from charging its customers for cost overruns on Plant Vogtle, which would likely cause S&P to downgrade Southern Company like it did for Kemper Coal's cost overruns once SO couldn't charge those to the customers or the state or federal governments. If SO and Georgia Power couldn't keep wasting our resources on that boondoggle at Plant Vogtle, they'd get on with solar faster.
As Edison Electric Institute recently spelled out, distributed rooftop solar power is the real disruptive challenge to the century-old cozy baseload capacity business model of the electric utilities, and rooftop solar, unlike a centralized monopoly, could bring jobs and lower electric bills to rural Georgia where they're needed most.
Oh, and there's no reason to wait for 2016 for explosive growth of solar power in Georgia.
Ten times more solar by 2015 through Georgia Power's efforts is nothing compared to what will happen once that 1973 law is out of the way. And GA PSC could do a lot more about that right now. The Georgia legislature could do even more in January.
-jsq
Short Link: