"I hope you'll consider a democratic process working into your rules," remarked a military veteran at Tuesday night's Lowndes County Commission Regular Session.
After saying he was also concerned about how Deep South Sanitation is being treated, Gary Wright said:
There is a little bit of a lack of democratic process in your meeting groundrules. On your website I don't know anything in there that said you have only thirty minute meetings for the entire thing. I don't know if this happens whenever you have a meeting that's only thirty minutes long; I've never been to one.
Their rules don't say that, but it's not surprising there is confusion, given how hard they are to find, and that the Chairman apparently made up a rule about 15 minutes total for Citizens Wishing to be Heard that also isn't in their relevant ordinance.
But on top that you should allow some sort of response dialog with the citizens, even if it's short and it's brief as long as it's courtesy that prevails. Or some promise of some sort of reply because if you're losing the democratic process you can't get the public to support you to vote for you… and expect to have a dialog at some level.

So I hope you'll consider a democratic process working into your rules.
The crowd applauded.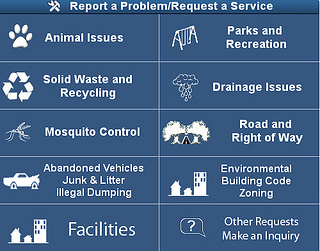 Leon County, Florida has an online issue tracking system so citizens don't even have to come to a Commission meeting to make a request, and they can follow what happened to their request. Dunwoody, Georgia (smaller than Valdosta) has a similar system. This is not rocket science.
But you are in Lowndes County, Georgia, where the Chairman explained to Wright after the meeting that he didn't want Commissioners or staff answering because that might start a dialog which might not be orderly. Instead, he had all the CTBH forms and all the Commissioners could see them and respond if they wanted to. He did not say any of them are required to respond, because they aren't. He did say there's only one door out of the room, and he, the Chairman always walks out past all the people still there. I pointed out the other door to the Executive Session room, and he did acknowledge he goes through that one when there is an Executive Session.
I didn't ask him if he recalled he went into an executive session 14 May 2013 and didn't come out for so long that
Tom Hallman, to whom the Chairman had promised an answer, left the building. When I asked him for an answer to a related question in that same meeting, his response was:
At this time we can't discuss that issue.
In Lowndes County apparently order is more important than democratic process. Why any chairman couldn't stick to 5 minute speaker limits and have orderly question and response, referring to someone specific for a later response when needed, is a mystery to me. I've seen it done by many a council and commission, and I've never seen any other that limits citizen speakers to 15 minutes.
But you are in Lowndes County!
Here's the video:

You're losing the democratic process –Gary Wright
Regular Session, Lowndes County Commission (LCC),
Video by Gretchen Quarterman for Lowndes Area Knowledge Exchange (LAKE), Valdosta, Lowndes County, Georgia, 11 June 2013.
-jsq
Short Link: