Update 2023-03-27: Agenda: Howell Road Halfway House @ LCC 2023-03-27.
The halfway house rezoning on Howell Road is back for its final Public Hearing, on March 28, 2023.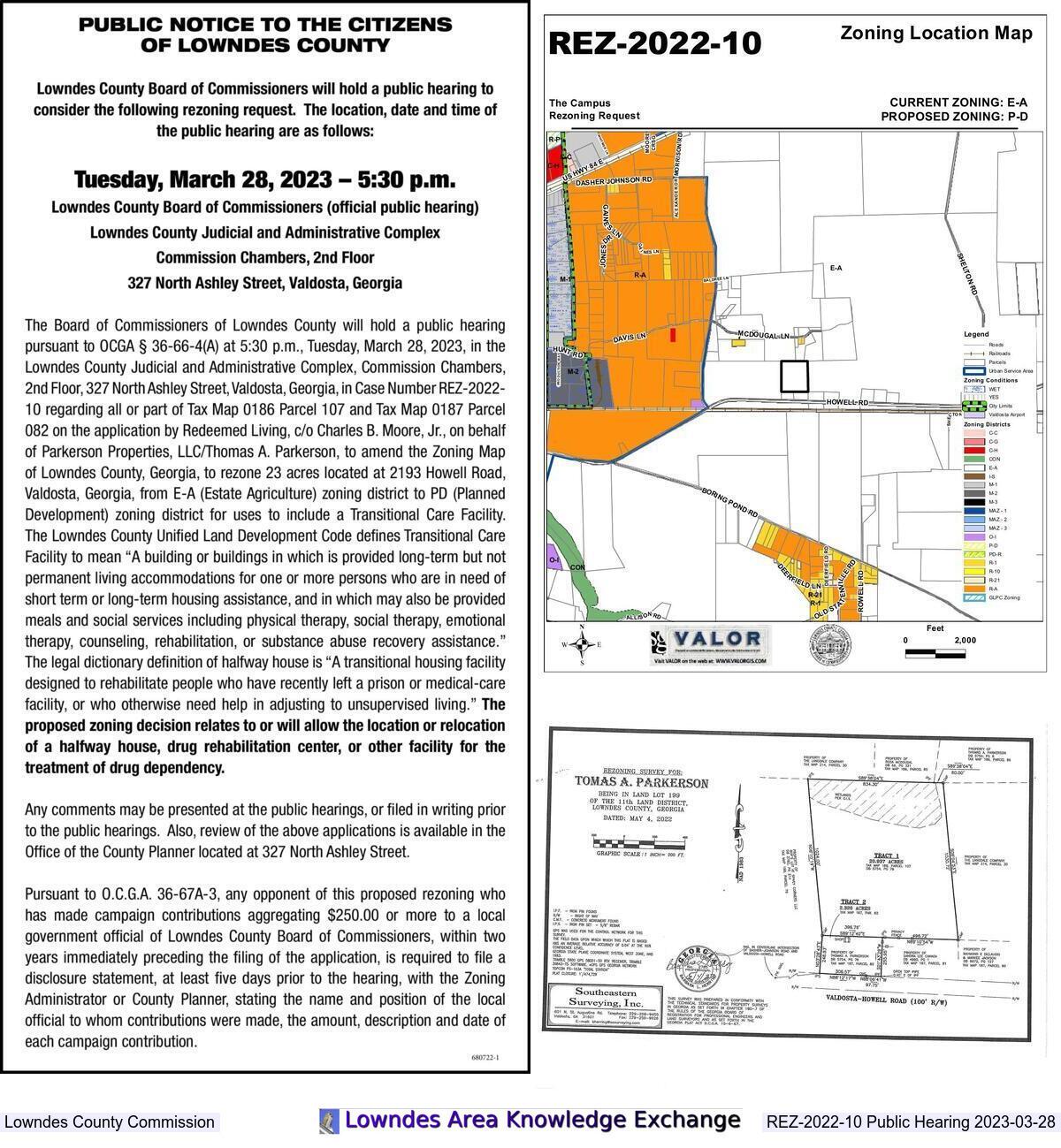 Second Public Re-Hearing, Zoning Location Map
Back in May 23, 2022, the Greater Lowndes Planning recommended denial by 7:2. Nonetheless, the Lowndes County Commission approved this rezoning on 2022-06-16 with the Chairman breaking a tie.
After an attorney for opponents dug in, that vote was determined invalid, because the county had not advertised the Public Hearing according to state law specific to Transitional Care Facilities. The first of two new Public Hearings was held 2022-09-13.
See also the Lowndes County Commission board packet 2022-06-16, the board packet 2022-09-12, and the GLPC board packet 2022-05-23.
In the Valdosta Daily Times, March 5, 2023:
Lowndes County Board of Commissioners will hold a public hearing to consider the following rezoning request. The location, date and time of the public hearing are as follows:

Tuesday, March 28, 2023 – 5:30 p.m.

Lowndes County Board of Commissioners (official public hearing) Lowndes County Judicial and Administrative Complex Commission Chambers, 2nd Floor 327 North Ashley Street, Valdosta, Georgia

The Board of Commissioners of Lowndes County will hold a public hearing pursuant to OCGA § 36-66-4(A) at 5:30 p.m., Tuesday, March 28, 2023, in the Lowndes County Judicial and Administrative Complex, Commission Chambers, 2nd Floor, 327 North Ashley Street, Valdosta, Georgia, in Case Number REZ-2022-10 regarding all or part of Tax Map 0186 Parcel 107 and Tax Map 0187 Parcel 082 on the application by Redeemed Living, c/o Charles B. Moore, Jr., on behalf of Parkerson Properties, LLC/Thomas A. Parkerson, to amend the Zoning Map of Lowndes County, Georgia, to rezone 23 acres located at 2193 Howell Road, Valdosta, Georgia, from E-A (Estate Agriculture) zoning district to PD (Planned Development) zoning district for uses to include a Transitional Care Facility. The Lowndes County Unified Land Development Code defines Transitional Care Facility to mean "A building or buildings in which is provided long-term but not permanent living accommodations for one or more persons who are in need of short term or long-term housing assistance, and in which may also be provided meals and social services including physical therapy, social therapy, emotional therapy, counseling, rehabilitation, or substance abuse recovery assistance." The legal dictionary definition of halfway house is "A transitional housing facility designed to rehabilitate people who have recently left a prison or medical-care facility, or who otherwise need help in adjusting to unsupervised living." The proposed zoning decision relates to or will allow the location or relocation of a halfway house, drug rehabilitation center, or other facility for the treatment of drug dependency.

Any comments may be presented at the public hearings, or filed in writing prior to the public hearings. Also, review of the above applications is available in the Office of the County Planner located at 327 North Ashley Street.

Pursuant to O.C.G.A. 36-67A-3, any opponent of this proposed rezoning who has made campaign contributions aggregating $250.00 or more to a local government official of Lowndes County Board of Commissioners, within two years immediately preceding the filing of the application, is required to file a disclosure statement, at least five days prior to the hearing, with the Zoning Administrator or County Planner, stating the name and position of the local official to whom contributions were made, the amount, description and date of each campaign contribution.

680722-1
-jsq
Investigative reporting costs money, for open records requests, copying, web hosting, gasoline, and cameras, and with sufficient funds we can pay students to do further research. You can donate to LAKE today!
http://www.l-a-k-e.org/blog/donate