Water, the next oil: many big companies have already been betting on that for years now. Do we want privatize companies controling our water supplies for their profit, running up prices at our expense? We can prevent that, and we should get on with it.
Jeneen Interlandi wrote for Newsweek 8 October 2010, The New Oil: Should private companies control our most precious natural resource?
…privately owned water utilities will charge what the market can bear, and spend as little as they can get away with on maintenance and environmental protection. Other commodities are subject to the same laws, of course. But with energy, or food, customers have options: they can switch from oil to natural gas, or eat more chicken and less beef. There is no substitute for water, not even Coca-Cola. And, of course, those other things don't just fall from the sky on whoever happens to be lucky enough to be living below. "Markets don't care about the environment," says Olson. "And they don't care about human rights. They care about profit."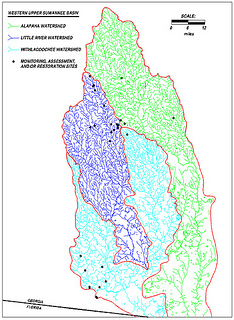 Well, that couldn't happen here. Or could it? What about this:
Many of us have no idea where our water comes from….
Do you know what's upstream of you, that might be getting into your water? Do you know what's downstream of you, that your runoff migh be getting into? If you're like me, you'll have to look that up.

Remember what Ben Copeland said: Orlando, Jacksonville, and Tallahassee "all have their straws in that same aquifer." The Floridan aquifer, which is the source of most of our drinking water. Our rivers and streams help replenish the Floridan aquifer, but we're using it up faster than rain falls.
The article goes on about Bolivia privatizing water as a condition of "austerity", until Continue reading →