CWIP rate hikes for power nobody's getting yet: it's not just for nukes for Georgia Power and Coal for Mississippi Power, it's for Florida Power and Light's Turkey Point nuke boondoggle! Let Ed Asner explain.
Here's the video: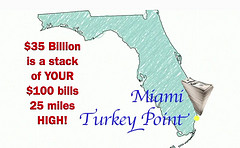 Ed Asner asks why not put that $35 billion to better use:
Why would anyone not want to work on renewable safe and much less expensive solar energy, in the sunshine state?!
Or in the Empire State of the South, for that matter. You know, Georgia, the state where FPL Continue reading →