Update 2022-09-27: Videos: LAS, TIA, Chiller, Ian @ LCC 2022-09-26.
This week the Lowndes County Commission will spend $1.4 million, mostly on fixing faulty chillers on their meeting building, but also $45,460 on the South Lowndes Land Application Site (LAS) which handles the county's sewage.
Their Work Session is 8:30 AM this morning. They vote at their Regular Session, 5:30 PM tomorrow evening, September 27, 2022.
Plus some amount of previously-authorized funds to widen Old Clyattville Road.
And there's a beer and wine license.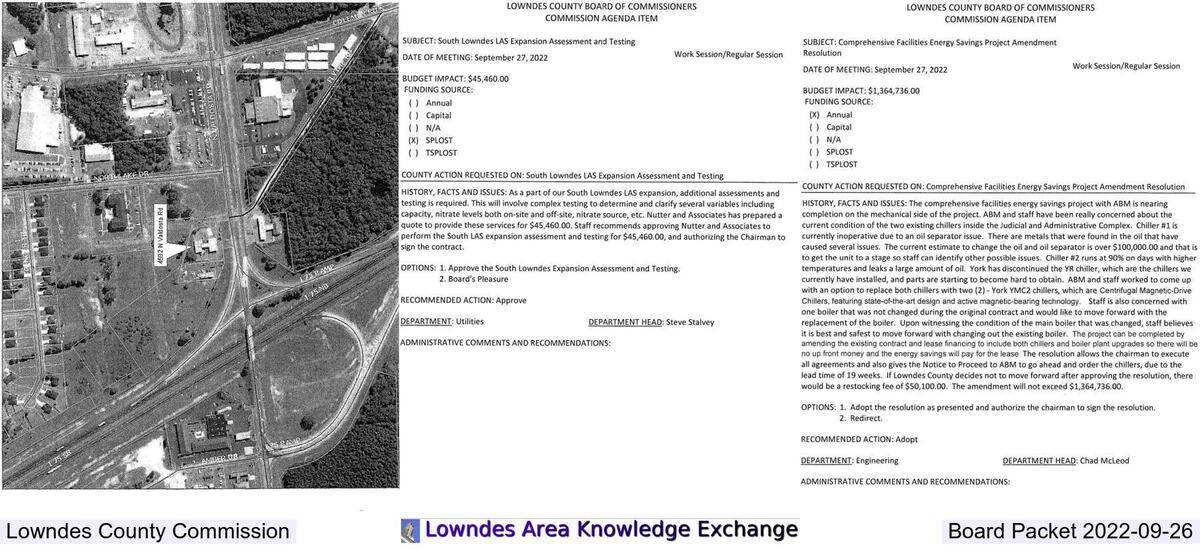 Collage Lowndes County Commission Packet 2022-09-26
The board packet, received in response to a LAKE open records request, is on the LAKE website. Here is the agenda:
LOWNDES COUNTY BOARD OF COMMISSIONERS
PROPOSED AGENDA
WORK SESSION, MONDAY, SEPTEMBER 26, 2022, 8:30 a.m.
REGULAR SESSION, TUESDAY, SEPTEMBER 27, 2022, 5:30 p.m.
327 N. Ashley Street – 2nd Floor
-jsq
Investigative reporting costs money, for open records requests, copying, web hosting, gasoline, and cameras, and with sufficient funds we can pay students to do further research. You can donate to LAKE today!
Short Link: