Update 2022-09-29: Packet: 1 Dasher art studio, 2 Lowndes County, 7 Valdosta @ GLPC 2022-09-26.
At the Greater Lowndes Planning Commission (GLPC) meeting this evening at 5:30 PM, the only sizeable rezoning they will discuss will be REZ-2022-16 Townes at 4443, 4443 Bemiss Road, and that one is next to another subdivision, on the county's main northside drag.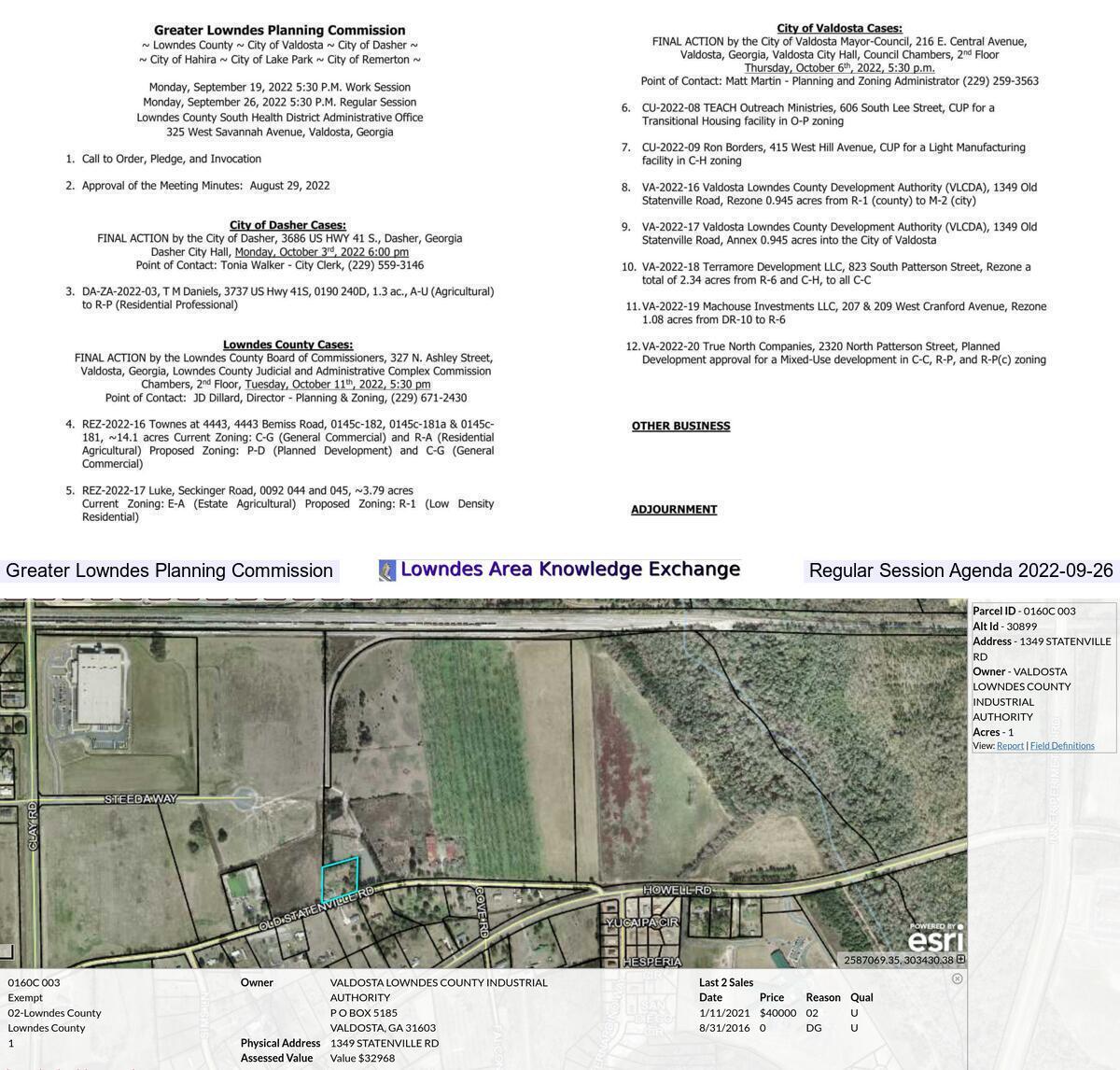 Both pages of the agenda @ GLPC 2022-09-26
It will be interesting to see how this Valdosta rezoning goes, after recent shenanigans involving a Lowndes County halfway house rezoning: REZ-2022-16 Townes at 4443, 4443 Bemiss Road.
The Valdosta Lowndes County Development Authority (VLCDA) wants to rezone and annex into Valdosta an acres at 1349 Old Statenville Road, which is next to one of VLCDA's existing industrial parks.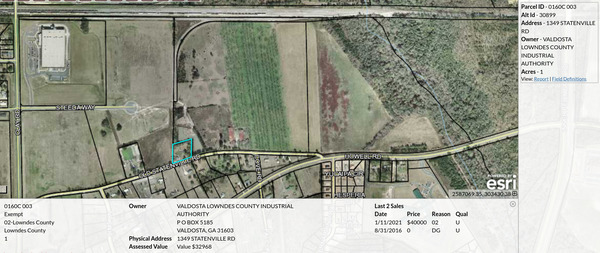 Map: VLCIA Parcel 0160C 003, 1349 Statenville Road, — Lowndes County Tax Assessors. The waterway on the right is Knights Creek, in the Alapaha River Basin.
Here is the agenda:
Greater Lowndes Planning Commission
~ Lowndes County ~ City of Valdosta ~ City of Dasher ~
~ City of Hahira ~ City of Lake Park ~ City of Remerton ~
Monday, September 19, 2022 5:30 P.M. Work Session
Monday, September 26, 2022 5:30 P.M. Regular Session
Lowndes County South Health District Administrative Office
325 West Savannah Avenue, Valdosta, Georgia

OTHER BUSINESS

ADJOURNMENT
-jsq
Investigative reporting costs money, for open records requests, copying, web hosting, gasoline, and cameras, and with sufficient funds we can pay students to do further research. You can donate to LAKE today!
Short Link: