At least part of the long-contentious Service Delivery Strategy (SDS) has been resolved between Lowndes County and the City of Valdosta. The county has agreed not to fund county roads using property taxes from incorporated taxpayers, that is, taxpayers within city limits of any of the five cities in the county.
Plus the county is spending a million dollars on communications equipment, road graders, and an architect for a library addition.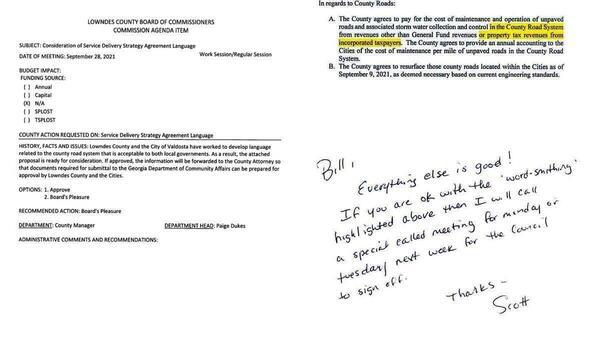 County roads not to be paid out of city property taxes
In regards to County Roads:

The County agrees to pay for the cost of maintenance and operation of unpaved roads and associated storm water collection and control

in the County Road System

from revenues other than General Fund revenues

or property tax revenues from incorporated taxpayers.

The County agrees to provide an annual accounting to the Cities of the cost of maintenance per mile of unpaved roads in the County Road System.
The County agrees to resurface those county roads located within the Cities as of September 9, 2021, as deemed necessary based on current engineering standards.

Bill [Slaughter, Lowndes County Chairman],

Everything else is good!

If you are ok with the 'word-smithing' highlighted above then I will call a special called meeting for monday or tuesday next week for the Council to sign off.

Thanks-
Scott [James Matheson, Valdosta Mayor]
The agenda is below for the the Lowndes County Commission meetings for September 27 and 28, 2021, The board packet, received in response to a LAKE open records request, is on the LAKE website:
http://www.l-a-k-e.org/govt/loco/2021-09-27–lcc-packet
LOWNDES COUNTY BOARD OF COMMISSIONERS
PROPOSED AGENDA
WORK SESSION, MONDAY, SEPTEMBER 27, 2021, 8:30 a.m.
REGULAR SESSION, TUESDAY, SEPTEMBER 28, 2021, 5:30 p.m.
327 N. Ashley Street – 2nd Floor
-jsq
Investigative reporting costs money, for open records requests, copying, web hosting, gasoline, and cameras, and with sufficient funds we can pay students to do further research. You can donate to LAKE today!
Short Link: