Lowndes County staff are proposing to spend $124,454, according to all the "BUDGET IMPACT"s board packet: $48,500 for a Jury Management System, $1,469.00 for Condemning ROW for Howell Lane Paving Project, $3,500.00 (approx.) for Second Modification of GEFA Loan Agreement, and for the Fire Department $29,195.00 for a 1/2 Ton Truck and $41,790.00 for a Breathing Air System.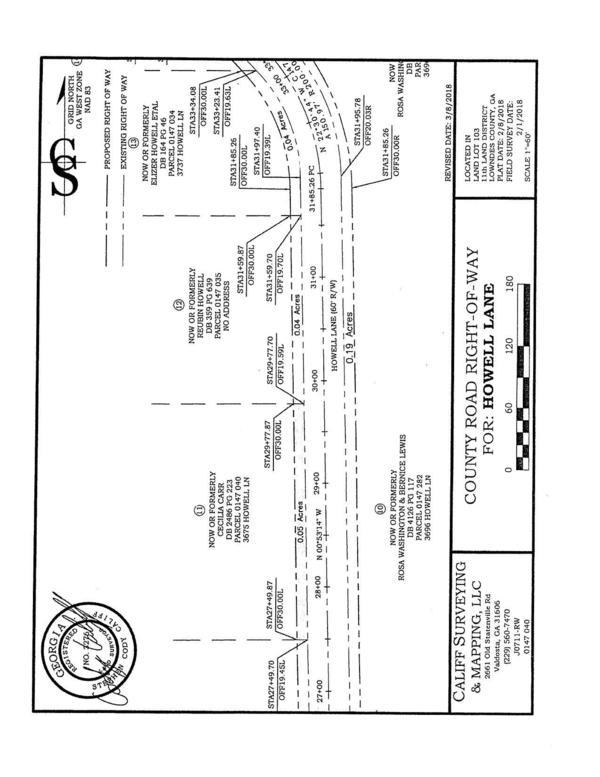 Survey plat: Revised County RoW for Howell Lane
They propose to borrow $1,734,000 from the Georgia Environmental Finance Authority (GEFA).
The Lowndes County Commission discusses Monday morning at 8:30 AM. They vote 5:30 PM Tuesday.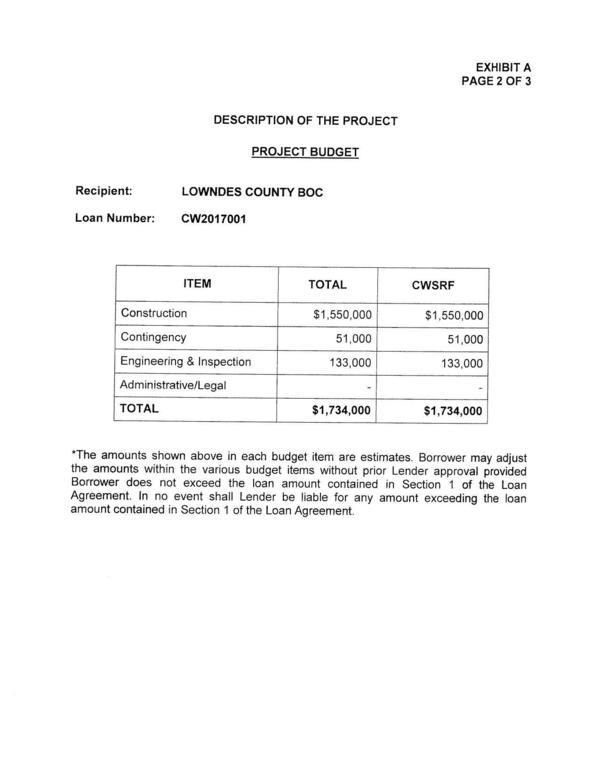 GEFA Loan Agreement Project Budget
For the first time ever! Lowndes County has returned the board packet before the Work Session.
LAKE sent an open records request Tuesday, and the county actually supplied the packet Friday, with this note:
The packet you requested is attached. We understand and are aware of the 3 days for open records requests. However, in many instances, the packet is not ready until Friday morning.
The packet is now on the LAKE website.
LAKE looks forward to the county putting all these packet documents on the county's own website, along with the agenda and agenda sheets.
LOWNDES COUNTY BOARD OF COMMISSIONERS
PROPOSED AGENDA
WORK SESSION, MONDAY, September 23, 2019, 8:30 a.m.
REGULAR SESSION, TUESDAY, September 24, 2019, 5:30 p.m.
327 N. Ashley Street – 2nd Floor
-jsq
Investigative reporting costs money, for open records requests, copying, web hosting, gasoline, and cameras, and with sufficient funds we can pay students to do further research. You can donate to LAKE today!
Short Link: