They list the three applicants for ZBOA, Victoria Copeland, Michael Cooper, Mike Elkins, but they do not supply the actual applications. These are for two slots, currently held by Dr. Willie Houseal, who does not wish to be reappointed, and ZBOA Vice Chairman Gretchen Quarterman, who does.
Both the rezoning cases have different applicant names than the Planning Commission listed two weeks ago, this time as REZ-2017-05 Jay Carter rezoning from R-A to R-1 for subdividing for independent sale and REZ-2017-04 Rieffel rezoning to CON and E-A for animals. REZ-2017-04 is located at 3621 SE Johnson Road, which is just north of Mud Swamp Creek, which downstream joins with Grand Bay Creek to form the Alapahoochee River, which flows into the Alapaha, into the Suwannee, into the Gulf.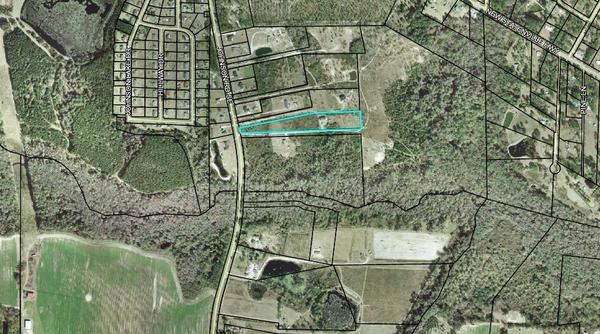 Lowndes County Tax Assessors Parcel 0188 167H
After the regional T-Splost roundtable meeting 1PM Monday, April 17, 2017, in Pearson, the Lowndes County Commission this week votes to Take action to support or oppose Regional T-SPLOST. If I understand correctly, 10 of the 18 counties in the region voted to form the roundtable, which is why it met, and now the roundtable must appoint its executive committee and chair, and then decide whether to hold a T-SPLOST referendum, as well as picking projects to be on it. All I've heard the roundtable decided so far was not to try to get it on the ballot this November, rather maybe in May 2018. Presumably this week the Lowndes County Commission will vote on its opinion on who should on the executive committee, who should be the chair (both Lowndes County Chairman Bill Slaughter and Valdosta Mayor John Gayle have been nominated), and maybe something about what projects should be considered. All while it's pretty clear from past episodes that the Lowndes County Commission would prefer to do its own T-SPLOST, but can't until after this regional T-SPLOST is resolved.
And no Lowndes County Commission agenda seems commplete without a Lift Station Pump Repair, this one on US 84 for $16,687.20. See also the LAKE videos of the preceding Greater Lowndes Planning Commission meeting.
LOWNDES COUNTY BOARD OF COMMISSIONERS
PROPOSED AGENDA
WORK SESSION, MONDAY, MAY 8, 2017, 8:30 a.m.
REGULAR SESSION, TUESDAY, MAY 9, 2017, 5:30 p.m.
327 N. Ashley Street – 2nd Floor
-jsq
Investigative reporting costs money, for open records requests, copying, web hosting, gasoline, and cameras, and with sufficient funds we can pay students to do further research. You can donate to LAKE today!
Short Link: