Why a day late and with no agenda?
Update 2016-10-19: Because, according to the Valdosta-Lowndes Development Authority last night, the meeting this morning is not them: it's the South Regional Joint Development Authority (SRJDA). The newspaper apparently got it wrong.
Community Calendar, VDT page 12a, 12 October 2016,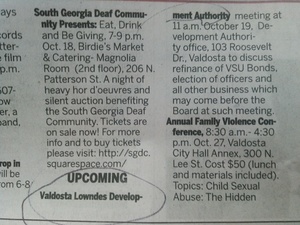 Valdosta-Lowndes Development Authority meeting at 11 a.m. October 19, Development Authority office, 103 Roosevelt Dr., Valdosta to discuss refinance of VSU Bonds, election of officers and all other business which may come before the Board at such meeting.
There's nothing about that on the Development Authority's Meeting Schedule web page (which lists a meeting "October 18, 2016" with no agenda Update 2016-10-18: that other agenda is posted now.). And nothing about it on their facebook page.
Could this meeting be about one or both of the recent bond refinancings proposed by the South Regional Joint Development Authority (SRJDA)?
-jsq
Investigative reporting costs money, for open records requests, copying, web hosting, gasoline, and cameras, and with sufficient funds we can pay students to do further research. You can donate to LAKE today!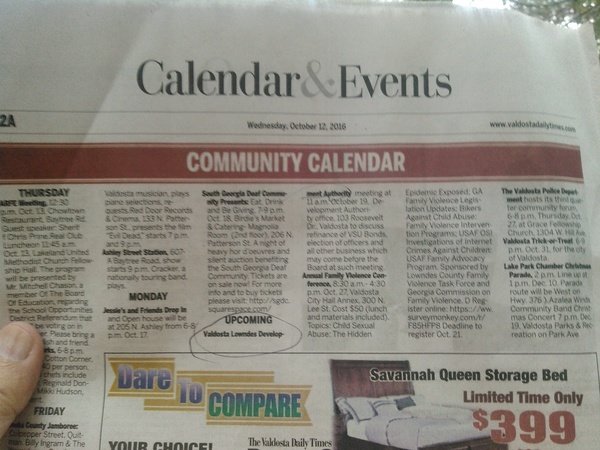 Short Link: