Update 2016-10-19: And we asked Nydia to speak directly through YouTube.
Here's Nydia Tisdale with her picture on the front page of the Atlanta Journal-Constitution.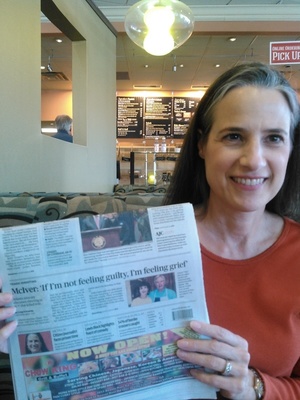 Gretchen and I dropped in on Nydia Sunday afternoon in Roswell, GA. Needless to say, we support Nydia. She usually doesn't even provide commentary with her video reports, yet when videoing public meetings she's repeatedly faced obstruction from people who don't seem to know the First Amendment, nor even the Four Amendment, much less Georgia's Open Meetings Law.
Chris Joyner, AJC, 6 October 2016, Ga. citizen journalist faces possible jail time,
"The idea that criminal charges can stem from free speech and First Amendment activity seems to undermine the entire premise on which our country was founded," said Hollie Manheimer, executive director of the Georgia First Amendment Foundation, which last year gave Tisdale its annual Open Government Hero Award.

"Free speech and free press rights are critical to an open community, and it is problematic on many levels when unjustified criminal charges are the response," Manheimer said.


Nydia Tisdale, left, consults with attorney Bruce Harvey at a hearing in Dawsonville Oct. 4, 2016. CHRIS JOYNER / CJOYNER@AJC.COM

In an era of shrinking journalistic resources, Tisdale is an important piece in holding the powerful accountable.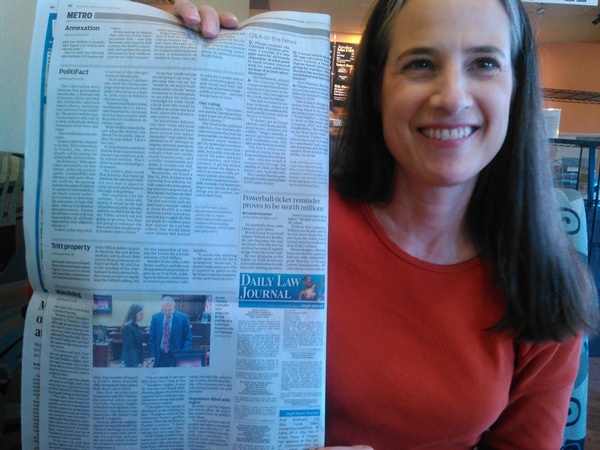 Nydia won both of her cases against the City of Cumming, Georgia for ejecting her from a public meeting (one is in appelate court). She should win this one, too.
The AJC story ends with Georgia Attorney General Sam Olens and the local county Republican party chair:
Once he got the mic, Olens protested Tisdale's removal. "What are we saying here that shouldn't be on film?" he said.

Linda Clary Umburger, then chairwoman of the Dawson County Republican Party, followed Wooten and Tisdale into the barn to voice her objection.

"I am sorry that people are treating you this way. This is wrong," she said in Tisdale's shaky video.

Reached by telephone, Umburger said she still feels that way and she blames herself for not taking a stronger stand in the moment.

"Out of fear and shock, I left Nydia in a room with men. As a woman I should have stayed there and I didn't," she said.
It wasn't "men" who did this: it was specific individuals. First they came for the citizen journalist, and you did nothing, chairwoman and AG.
Thursday, October 13th 2016, Nydia videoed this year's Georgia First Amendment Foundation Charles L. Weltner Award Banquet. Last year she was their 2015 Open Government Hero.
I was surprised to find Nydia is not actually ten feet tall, as she sometimes appears to be. She modestly dismissed that thought. I asked her to keep up the good work. More about her on the LAKE blog.
-jsq
Investigative reporting costs money, for open records requests, copying, web hosting, gasoline, and cameras, and with sufficient funds we can pay students to do further research. You can donate to LAKE today!
Short Link: