Monday morning 8:30 AM, a self storage rezoning, (final?) Comprehensive Plan approval, three road abandonments, a road widening, the annual MIDS bus service renewal, an art district presentation by Angela Crance, a Georgia Forestry presentation by Stephen Spradley, and a county resolution about bonds for another private LLC by the South Regional Joint Development Authority (SRJDA), different from the one with the public hearing October 21st at a private law firm. What does the resolution say? It's not in the documents with the agenda.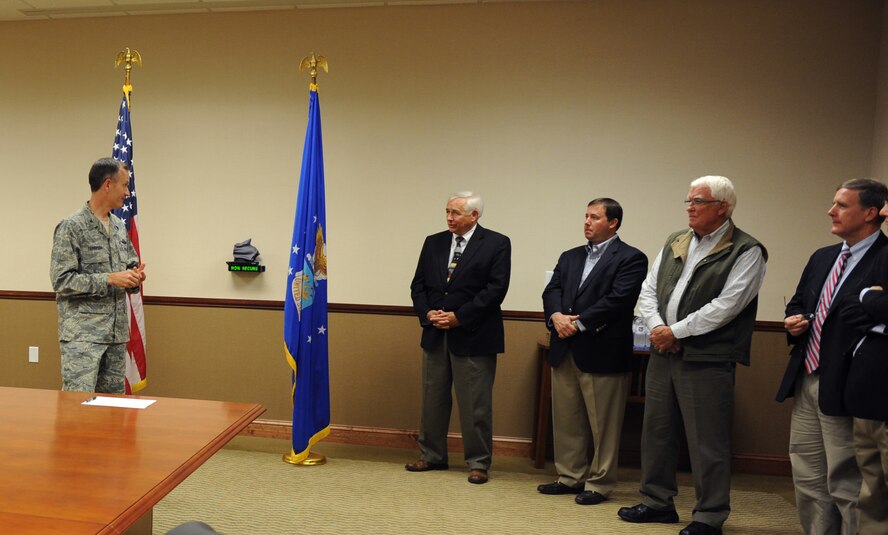 U.S. Air Force Col. Billy Thompson, 23d Wing commander, expresses his gratitude to members of the South Regional Joint Development Authority (SRJDA) April 22, 2013, at Moody Air Force Base, Ga. The SRJDA and the 23d Civil Engineer Squadron worked together for more than four years to have 24.56 acres of land transferred over to Moody. (U.S. Air Force photo by Staff Sgt. Melissa K. Mekpongsatorn/Released)
LOWNDES COUNTY BOARD OF COMMISSIONERS
PROPOSED AGENDA
WORK SESSION, MONDAY, OCTOBER 10, 2016, 8:30 a.m.
REGULAR SESSION, TUESDAY, OCTOBER 11, 2016, 5:30 p.m.
327 N. Ashley Street — 2nd Floor
-jsq
Investigative reporting costs money, for open records requests, copying, web hosting, gasoline, and cameras, and with sufficient funds we can pay students to do further research. You can donate to LAKE today!
Short Link: