No agenda available to the public, not on county's website, and not available at the door at Monday's Planning Commission Work Session.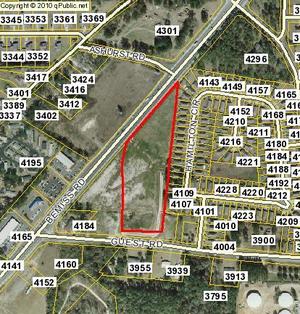 They didn't even say the rezoning case numbers. Apparently the Planning Commissioners had a board packet with some materials, but the citizens and taxpayers did not get to see it, and the City Planner said the electronic version would be much different. They haven't even put a sign up on the Lowndes County property. The Valdosta rezoning is a pretty big deal, with a grocery store and a gas station for the unnamed applicant, who apparently is Bassford Properties LLC.
Below are links to the LAKE videos of each case with some notes, followed by a video playlist.
Call to Order – Lowndes County Case (CAC) Skipper Bridge Road, R-A to O-I

Video. County Planner Jason Davenport said the Children's Activities Center (CAC) wants rezoning from R-A to Office something (O-I) so they can build a new building. He thinks CAC does good work and staff recommends the rezoning. They haven't even put a rezoning sign up yet on the property. If you don't know what OI is, don't be surprised; at least one of the Commissioners didn't know, either.

Valdosta Cases (3 in 1) Bemiss Road at Guest Road

Video. City Planner Matt Martin said they wanted to rezone from Planned Commercial Development (PCD) to Community Commercial (C-C) because they were deviating from their original plan. Now they want to put in a grocery store and a gas station, all owned and operated by one entity, a chain, name as yet unannounced. They aim to start building in April and finish by November.

There's a drainage ditch and easement to drain Bemiss Road (and apparently also part of Hamilton Circle) that goes in a culvert under Guest Road. Where it goes from there isn't clear; maybe into Valdosta's storm water system?

Who is they, "the applicant"? By the description and location, apparently Bassford Properties, LLC, 5625 Coleman Road NW Hahira, GA 31632, parcels 0146A 420, which is the big one pictured, with the drainage ditch on it, and the two on either side if it, 0146A 421 and 0146A 420A, but not the parcel right at the angle of Bemiss and Guest Roads.
Here's a LAKE video playlist:

Children's Activity Center + 3 in 1 Valdosta cases on Bemiss Road
Work Session, Greater Lowndes Planning Commission (GLPC),
Video by Gretchen Quarterman for Lowndes Area Knowledge Exchange (LAKE),
Valdosta, Lowndes County, Georgia, 22 February 2016.
-jsq
Short Link: