Sabal Trail asked the judge to throw out my letter to the court yesterday, but the judge said the contents were public record anyway.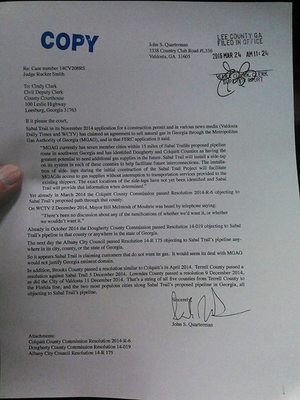 Six minutes before yesterday's eminent domain hearing in Leesburg, GA was scheduled to start I submitted the letter you see below, noting that Sabal Trail was claiming customers in counties and cities that had passed resolutions and otherwise said they didn't want Spectra's fracked methane pipeline. Naturally Sabal Trail's attorneys didn't like that, and asked the judge to disregard and strike from the record "the Quarterman letter" because they said I didn't have standing, and you can't just submit materials a few minutes before a hearing. The judge said he would entertain that motion, but he proceeded to leaf through the attachments, noting resoutions by Lowndes County, by Valdosta, a letter from Spencer Lee (Dougherty County attorney), a resolution by Terrell County, one by Albany, and one by Colquitt County. The judge remarked that all this was public record anyway, so striking the letter wouldn't have much effect.
And it was pretty clear, at least to me (and remember I am not an attorney), that attorneys for both sides and the judge did find those resolutions relevant to the basic question of whether Sabal Trail provides gas "in the State of Georgia" and perhaps to a 2006 Georgia constitutional amendment that may give local elected bodies eminent domain oversight. See other post. Evidentiary briefs are being submitted, and amicus curiae are possible.
Re: Case number 14CV208RS
Judge Rucker Smith
To: Cindy Clark
Civil Deputy Clerk
County Courthouse
100 Leslie Highway
Leesburg, Georgia 31763
Here's the text of the letter I sent. I've added links to the news stories and resolutions referenced.
John S. Quarterman
3338 Country Club Road #L336
Valdosta, GA 31605

Re: Case number 14CV208RS
Judge Rucker Smith

To: Cindy Clark
Civil Deputy Clerk
County Courthouse
100 Leslie Highway
Leesburg, Georgia 31763

If it please the court,

Sabal Trail in its November 2014 application for a construction permit and in various news media (Valdosta Daily Times and WCTV) has claimed an agreement to sell natural gas in Georgia through the Metropolitan Gas Authority of Georgia (MGAG), and in that FERC application it said:

''MGAG currently has seven member cities within 15 miles of Sabal Trailâs proposed pipeline route in southwest Georgia and has identified Dougherty and Colquitt Counties as having the greatest potential to need additional gas supplies in the future. Sabal Trail will install a side-tap on its system in each of these counties to help facilitate future interconnections. The installation of side- taps during the initial construction of the Sabal Trail Project will facilitate MGAGâs access to gas supplies without interruption to transportation services provided to the existing shippers. The exact locations of the side-taps have not yet been identified and Sabal Trail will provide that information when determined.''

Yet already in March 2014 the Colquitt County Commission passed Resolution 2014-R-6 objecting to Sabal Trail's proposed path through that county.

On WCTV 2 December 2014, Mayor Bill McIntosh of Moultrie was heard by telephone saying:

''There's been no discussion about any of the ramifications of whether we'd want it, or whether we wouldn't want it.''

Already in October 2014 the Dougherty County Commission passed Resolution 14-019 objecting to Sabal Trail's pipeline in that county or anywhere in the state of Georgia.

The next day the Albany City Council passed Resolution 14-R 175 objecting to Sabal Trail's pipeline anywhere in its city, county, or the state of Georgia.

So it appears Sabal Trail is claiming customers that do not want its gas. It would seem its deal with MGAG would not justify Georgia eminent domain.

In addition, Brooks County passed a resolution similar to Colquitt's in April 2014. Terrell County passed a resolution against Sabal Trail 5 December 2014. Lowndes County passed a resolution 9 December 2014, as did the City of Valdosta 11 December 2014. That's a string of all five counties from Terrell County to the Florida line, and the two most populous cities along Sabal Trail's proposed pipeline in Georgia, all objecting to Sabal Trail's pipeline.

Sincerely,

John S. Quarterman

Attachments:
Colquitt County Commission Resolution 2014-R-6
Dougherty County Commission Resolution 14-019
Albany City Council Resolution 14-R 175
I also attached the Lowndes, Valdosta, and Terrell County resolutions.
-jsq
Short Link: