No education, all law enforcement: Sheriff's Office or Public defender's office.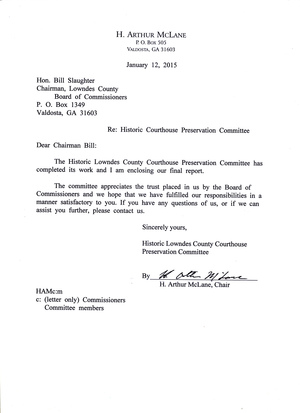 Either would save the county money in the long run and preserve the courthouse through use of its services (heat, light, air conditioning). Plus some points on renovating the courthouse building and grounds. Judge McLane referred to this report in his talk at the Commission Work Session 9 March 2105, in which he said it would not be possible for VSU to use the courthouse without "some pretty dramatic and we think negative" changes to the building.
In his cover letter, Judge McLane said he was not sending the actual report to the Commissioners, yet clearly they were reading it in the Work Session, because they asked questions from it. And now you, the public can see the report. LAKE did not get it from the Commission, which so far as we know has not published it. The cover letter and the report are below in full. For context and videos of all three courthouse hearings, see Courthouse Preservation Committee Meetings.
H. ARTHUR MCLANE
P. O. Box 505
VALDOSTA, GA 31603

January 12, 2015

Hon. Bill Slaughter
Chairman, Lowndes County
Board of Commissioners
P. O. Box 1349
Valdosta, GA 31603

Re: Historic Courthouse Preservation Committee

Dear Chairman Bill:

The Historic Lowndes County Courthouse Preservation Committee has completed its work and I am enclosing our final report.

The committee appreciates the trust placed in us by the Board of Commissioners and we hope that we have fiilfilled our responsibilities in a manner satisfactory to you. If you have any questions of us, or if we can assist you further, please contact us.

Sincerely yours,

Historic Lowndes County Courthouse
Preservation Committee

By [signed]
H. Arthur McLane, Chair

HAMc:m
c: (letter only) Commissioners
Committee members
Lowndes County Historic Courthouse
Preservation Committee
Report to the Board of Commissioners

The Lowndes County Board of Commissioners appointed the undersigned as a committee to consider, and recommend to the Board of Commissioners, proposed usage of the historic Lowndes County Courthouse for the foreseeable future.

Soon after the appointment, the members of the committee toured the courthouse to review the overall layout and usable space. The committee also obtained information from Chad McLeod and other members of the building maintenance staff concerning the overall stability of the building and the probability of needed upgrades and modifications to the building and the operating systems within it.

Further active work was postponed until an election could be held to determine whether or not SPLOST fimds would ultimately be available to fund the cost of necessary modifications and upgrades. With the positive election results on the SPLOST issue, further consideration was given to the best means of pursuing the process for gathering information concerning the opinions of the general public concerning the courthouse. Informal announcements and comments were made by the committee members to civic clubs and interested citizens requesting their opinions concerning the courthouse and its future use.

There was total unanimity in comments made to the committee members on three points: (1) the historic courthouse should be preserved and upgraded as necessary to provide for its future use as an iconic part of downtown Valdosta; (2) the main courtroom on the second floor, and the rooms on that floor, should be maintained for future use for high-profile cases, special ceremonies, and other appropriate related uses; and (3) the interior and exterior should be renovated and upgraded to restore the building, insofar as reasonably possible, to its historic appearance. While no specific inquiry has been made by the committee since the November, 2014, elections, it has been the understanding of the members of the committee that the members of the Board of Commissioners concurred in the comments made to the committee members and the same opinions held by the members of the committee.

The committee then decided that the best means of affording the general public an opportunity for meaningful input into the overall situation would be to have public hearings. With the valuable input and assistance of County Clerk Paige Dukes and her staff, three public hearings were scheduled in the summer of 2014. The hearings were held on June 9,2014, at 6:00 pm, June 10, 2014 at 4:00 pm. and June 12, 2014, at 1:00 pm, in order to accommodate as many members of the public as possible. There was a very good turnout at the public hearings. Approximately fifieen people spoke at the hearings and some additional material was submitted after the hearings.

A broad variety of concepts for consideration were submitted. These concepts included: a business incubator for Valdosta and Lowndes County; a satellite location for educational expansion by an institution not currently located in Lowndes County, such as the Savannah College of Art and Design; a location for state government offices; a downtown location for VSU offices and/or programs; relocation of the Public Defender's office from its current location in the Bank of America building; administrative offices for the Lowndes County Sheriff's office; a tourist welcome office; and others.

In considering each concept presented, the committee addressed eight questions: (1) would the concept be a clearly legal use for county-owned real estate; (2) would the concept favor, or appear to favor, a particular business or class of businesses over another business or classes of busi- nesses; (3) would an incoming concept, or one new to the community, be in competition with businesses or organizations already located in Valdosta- /Lowndes County; (4) would the concept be a new or different concept from one already in Valdosta/Lowndes County; (5) would the concept require substantial change in the structure of the courthouse; (6) would the concept be financially favorable to Lowndes County; (7) would the concept promote efficiency in its operations and/or Lowndes County operations; and (8) would the concept enhance downtown visitation by the citizens.

After reviewing the information received, and discussing the information in a meeting, the committee hereby recommends two concepts to the Lowndes County Board of Commissioners for their consideration. The two concepts, and the committee's decision on the questions addressed, are in alphabetical order according to the title ascribed to the concept by the organization involved.

Lowndes County Sheriff's Office -Administrative Offices. The Lowndes County Sheriff's office has outgrown ltS current available space at the Lowndes County Jail, and is in great need for larger quarters. It strongly appears that, if other space is not otherwise obtained, it will be necessary to construct additional facilities in the near future. Placing the LCSO administrative offices in the historic courthouse would be a clearly legal use of that county-owned real estate. Placing the administrative offices in the historic courthouse would not favor the LCSO over a private business or classes of business. Placing the offices would not be in competition with another business already located in Lowndes County. Placing the offices would only be a continuation of operations now being conducted by the LCSO, but would allow the LCSO a much better, and more reasonably roomy, working environment for administration. Placing the offices would not require a substantial change in the structure of the courthouse. Placing the offices would be financially favorable to Lowndes County in that it would (a) cost substantially less than the construction of new offices and (b) would, through regular use, prevent deterioration of the electrical, HVAC and plumbing systems in e courthouse. Placing the offices would promote efficiency in the operation of the LCSO in that it would (a) provide better administrative working conditions than now exist and (b) would provide quicker response time, when and if needed, to the new judicial and administrative complex, city hall and the Valdosta police department, the Lowndes County tax office, and other emergencies in the downtown and central Lowndes County area. And placing the offices would, in some measure, enhance downtown visitation in that citizens who now visit the LCSO to file reports, report for interviews, complete fingerprint requirements for certain permits and complete other routine civil business would be in central downtown rather than at a detention facility.
Southern Circuit Public Defender's Office. The Southern Circuit Public Defender's office is, likewise, in need of additional office space. Its current space, in the Bank of America building, is somewhat difficult to find if someone is not already familiar with its location. Placing the Public Defender's office in the historic court- house would be a clearly legal use of that county-owned real estate. Placing the PD office in the historic courthouse would not favor the PD office over a private business or classes of business. Placing the office would not be in competition with another business already located in Lowndes County. Placing the office would only be a continuation of operations now being conducted by the PD office, but would allow the PD a better and more convenient working environ- ment and would, in addition, give the PD office easier access to both the historic courtroom and the courtrooms in the judicial complex for practice with witnesses and courtroom preparation for trials. Placing the PD office in the historic courthouse would not require a substantial change in the structure of the courthouse. Placing the PD office in the historic courthouse would be financially favorable to Lowndes County in that it would (a) eliminate the current payment of annual rent which the committee understands is approximately $ 72,000.00 per year and (b) would, through regular use, prevent deterioration of the electrical, HVAC and plumbing systems in the courthouse. Placing the office would promote efficiency in the oper- ation of the PD office in that it would (a) make the offices easier to find for those not already familiar with its location and (b) would provide faster and easier access to records in the Clerk's office and the courtrooms. And placing the offices would, in some measure, enhance downtown visitation in that it would be easier for many people to locate the office.

The committee, as a part of its overall inspection of the historic courthouse and the block on which it is located, believes that it would be helpful to the Board of Commissioners to make four general requests and/or recommendations:

When the main courtroom on the second floor was renovated in the late 1980s, "energy efficient" lights were installed in the ceiling. Those lights have not worked satisfactorily; when power is interrupted, as in a thunderstorm or other power failure, those lights do not return to full lighting capacity for three to seven minutes and, in addition, they have, on a number of occasions, made noise that interferes with the ability to hear clearly. The committee is aware that much progress has been made with LED and other types of lighting and feels that the current lights should be replaced with new lighting that will return to full power and lighting capacity immediately when power is restored.
Again, when the main courtroom on the second floor was renovated, the aluminum-framed windows were replaced with dark-colored (anodized ?) metal which very closely resembled the window frames shown in old photographs of the courthouse. The committee recommends that that treatment be done for all remaining windows in the courthouse, as well as for doors at outside entrances to the courthouse.
When the courthouse was originally built, light fixtures were placed on either side of the entrances. Those fixtures were long ago discarded, but several years ago, attractive light fixtures were mounted at the locations of the original fixtures. It apparently could not be determined, at that time, where the wiring in the fixture boxes led so that the fixtures could be operable again. The committee recommends that wiring be installed so that the fixtures can, once again, be lit.
Benches and a nice seating area have been placed at the northeast area of the courthouse yard, under the live oak tree. The committee recommends that that area be enhanced and that one or more additional areas be established so that visitors to the downtown area can visit and refresh themselves in an attractive park-like spot.

The committee appreciates the trust placed in us by the Board of Commissioners, and we hope that we have fullfilled our responsibilities in a manner satisfactory to you. If you have any questions of us, or if we can assist you further, please contact us.

Respectfully submitted, this 12th May of January, 2015.

[signed]
H. Arthur McLane, Chair

[signed]
Donald O. Davis

[signed]
L. Michael Dover

[signed] W. Tyson McLane
-jsq
Short Link: