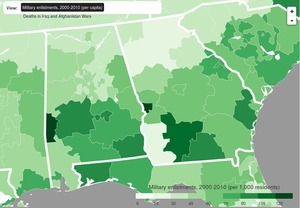 Yet another reason Atlanta doesn't understand south Georgia: military enlistment is 1 in 100 people in south Georgia from Columbus to Valdosta, and less than a third of that in the Atlanta Metro area. Enlistment is probably related to two other major features of south Georgia that Atlanta doesn't understand: it's agricultural (traditionally a bastion of military supporters), and it's poor (and enlisting is one way to a career). A certain pipeline company may not have taken this factor into account, either.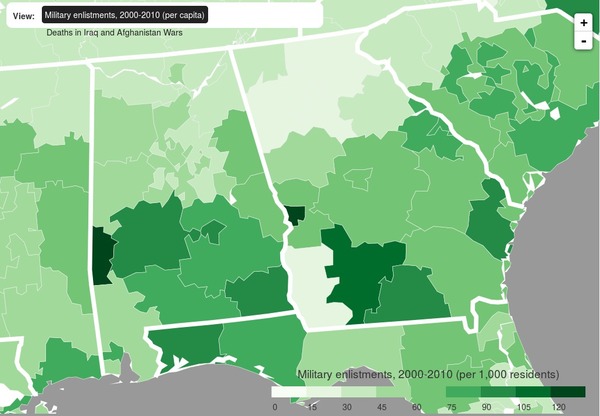 Military Enlistments, in The Tragedy of the American Military, by James Fallows, The Atlantic, Jan-Feb 2015.
Some of this can be explained by Fort Benning at Columbus, the Marine Logistics Center in Albany, and Moody Air Force Base near Valdosta. Yet the Savannah area has Fort Stewart and Hunter Army Airfield, and doesn't show as high enlistment rates. Even Atlanta has Fort Gillem, Fort McPherson, and Atlanta Naval Air Station, so the presence of military bases isn't enough alone to explain enlistment. Lowndes County also has many military retirees, and that's at least a reinforcing factor.
Whatever the reason, military enlistments are yet another difference between south Georgia and metro Atlanta.
And Sabal Trail in its general lack of due diligence for its proposed fracked methane pipeline maybe not only didn't know about the Floridan Aquifer and its fragile karst limestone containment, nor about our acidic soil and rivers that would corrode its pipes even faster than they do everywhere else; maybe it didn't notice its proposed pipeline path goes right through through the most enlisting area of Georgia. In other words, through the area most used to repelling foreign invaders.
-jsq
Short Link: