As a Commissioner said, "It don't pass the smell test" that Sabal Trail already bought land for a compressor station before they even filed for a formal permit. A Commissioner said "We have to be more aggressive." Well, then, time to pass a land-user ordinance against pipelines! Thanks to Jennifer Maloney, you can see for yourself Albany and Dougherty County citizens and Commissioners opposing the Sabal Trail fracked methane pipeline in a community effort at a Dougherty County Commission meeting 15 September 2014.
Jennifer Maloney has a facebook group, Albany Against Sabal Trail (AGAST) and she is an active participant in SpectraBusters. She took these videos for LAKE at my request.
See also details of Sabal Trail's land purchase, and newspaper and TV stories.
Lowndes County citizens, do you see any difference in the way the Dougherty County Commission operates, sitting around a table discussing directly with citizens, vs. the Lowndes County Commission sitting on its podium at work sessions, not letting citizens speak?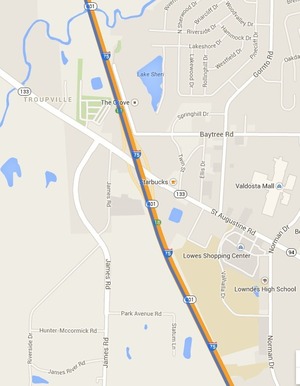 Dougherty County citizens, you do realize these alternative routes you're talking about all go through somebody else's populated areas and wetlands, 4 out of 5 routes in Georgia through Lowndes County, and 3 out of 5 through Tifton and Valdosta? And I'm glad somebody brought up that wetlands and farmlands are not appropriate places for that pipeline, either. If you want to get more aggressive, how about abandon just NIMBY and step up to opposing this pipeline entirely? We need not just a per-county or even a per-state effort. We need a tri-state (AL,GA,FL) and national opposition to private companies gouging pipelines through other people's fields, forests, and cities for LNG export profit.
Here are maps of those Alternatives 1-4:
And here are Sabal Trail's own maps of those and other alternatives.
Here are links to each video, followed by a video playlist:
Here's a video playlist:

Videos of Dougherty County citizens opposing Sabal Trail pipeline
Work Session, Dougherty County Commission (DCC),
Video by Jennifer Maloney for Lowndes Area Knowledge Exchange (LAKE),
Albany, Dougherty County, Georgia, 15 September 2014.
-jsq
Short Link: