The Turner Brooks rezoning next to Pine Tree Road turns out to be in paved-over wetlands that previously flooded, only slightly uphill from notoriously-problematical Sugar Creek. GLPC recommended tabling until Historic Preservation could look at one of the houses, but these water issues could be at least as important, and Valdosta City Council could decide to approve anyway without waiting.
People were six deep in the foyer Monday night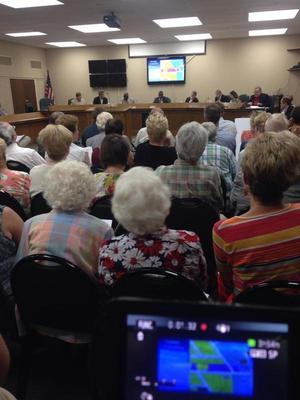 for the Turner Brooks item at the 25 August 2014 Regular Session of the Greater Lowndes Planning Commission. It was back with another plan after being withdrawn last month. Tom Call, representing some of the owners of the property sellers, said they'd tried to meet with the neighbors, who refused. He didn't say whether they tried meeting with them one-on-one. GLPC could have put a bunch of conditions on it that would have mostly satisfied the neighbors' concerns, leaving the developers and sellers to decide whether it was worth it. Instead, they tabled. The Valdosta City Council can still decide if they want to. However, one of the houses they'd have to demolish is potentially on the National Historic Register, and if so, they can't tear it down.

Here are links to the individual videos, followed by a playlist for this item.
Here's a video playlist:

Turner Brooks: flooding, runoff, Sugar Creek?
Regular Session, Greater Lowndes Planning Commission (GLPC),
Video by Gretchen Quarterman for Lowndes Area Knowledge Exchange (LAKE),
Valdosta, Lowndes County, Georgia, 25 August 2014.
-jsq
Short Link: