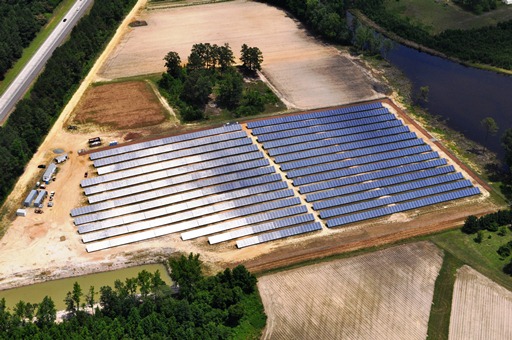 Can't miss this driving north on I-95: acres of solar panels next to the highway, paying a local farmer for decades.
MacDonald wrote for enerG September/October 2012, Solar picking upsteam in the U.S. South,
The Sandy Cross solar farm is the most recent project completed by O2energies, a mid-sized Charlotte-based solar development firm that has built a reputation for combining sustainable agriculture and sustainable energy production on farms in the southeastern U.S. The company owns and operates several solar farms in North Carolina.

The company's president, Joel Olsen, notes that agriculture and energy production can complement each other. Solar farms have a low profile, are noiseless, produce no pollution, and consume no water.

Olsen points out an interesting fact: solar farms can often be easily placed on farm land that is unsuitable for crops—that same land can be ideal for producing energy.

Olsen explained that the Sandy Cross project started with discussions with Old North State Winery and Brewery, which uses the grapes from the Lewis Family Farm's vineyard.

"There was land on the vineyard that wasn't suitable for growing grapes, and there was interest in possibly leasing out some portion of the farm to generate renewable energy."

At the same time, North Carolina-based Progress Energy (now part of Duke Energy) put out a Request for Proposals and Renewable Energy Credits for solar power.

"We responded to the RFP using the Sandy Cross vineyard as the location, and our proposal was selected," said Olsen. "Shortly after, we began working with Nash County on a new ordinance that would allow solar farms to be built in the county. We spent a lot of time working with the county planning department to make sure the permitting and zoning would be possible."

Among the 80 workers who built the project, half were from Nash County, where the Sandy Cross project is located, and most others were from neighboring counties. The employment is all welcome, as the county has a higher than national average unemployment rate, at 12 percent.
Here's a video:
And it was built quickly. Ken Murchison wrote for Spring Hope Enerprise some time in 2012, Company clears land for solar farm,
Nash County amended its unified development ordinance last October to allow solar farms. The county also approved O2 Energies' request to rezone the Sandy Cross property for use as a solar farm.
Here's the agenda for the 3 October 2011 Nash County Board of Commissioners meeting,
Public Hearing: Conditional Use Rezoning Request 3 CU-110901 Made by Anne Lewis Webb to Rezone Approx. 21.53 acres from RA-40 Single-Family Residential to R-40-CU Single-Family Residential Conditional Use for the Development of a Proposed Solar Farm
And here are the minutes from that meeting, in which they also approved a change to their Unified Development Ordinance for solar farms.
Sandy Cross Solar Farm was under construction in April 2012, according to Amneris Solano in NCSEA News 17 April 2012, 1.5 Megawatt Sandy Cross Solar Farm Underway,
"This is a perfect example of a good team working together to create something that benefits everyone involved," said David True, Commercial Solar Services with Southern Energy Management, which is serving as the Engineering, Procurement and Construction partner. "We have a local farmer who will be collecting a lease for decades, O2 Energies who will own and operate a state ofthe art system, and a community benefiting from a new clean energy source."…

Sandy Cross Solar Farm will not only maximize the use of local labor, but O2 Energies has intentionally chosen American-made equipment where possible. The silicon in the 6,000 REC solar modules is manufactured in the US. Additionally, the racking system supporting the panels is made by Daetwyler, a North Carolina-based manufacturer.
They held an opening ceremony midsummer's day, 21 June 2013. (Yes, I know technically the summer solstice was 23:09 20 June 2012.)
So that's only a few months from start to producing full power. Even if you count it from October 2011 to June 2012, that's still only 9 months from start to finish. What nuclear, coal, or natural gas plant can say that? Plus no fuel, no water, and no emissions during operations.
According to the writeup by its developer, o2energies.com, Sandy Cross Solar: 1.25 MW AC solar farm | Elm City, NC | Commissioned May 2012,
Thursday's commissioning event included representatives from the N.C. Department of Agriculture who brought along their "Got to be NC" giant shopping cart and touring RV. Also represented were officials from the N.C. Agriculture Finance Authority that worked with Blue Harbor Bank to provide financing for the $5-million project. In addition, there was a local sheep farmer showing off some of his animals that will maintain the solar farm's grounds by eating grass and weeds.

The event ended with a wine and juice tasting provided by Old North State Winery of Mt. Airy, which uses Sandy Cross Vineyards grapes in some of its products, while music with a "sun" theme played in the background.

"We are very proud of this project," Olsen said, "and are fortunate to be working with so many committed project partners."
Somebody tell me why we can't be doing all that in Georgia?
Meanwhile, o2energies moved on to its fourth and fifth solar projects in North Carolina, according to John Downey in the Charlotte Business Journal 8 June 2012, O2energies building fourth solar farm in rural N.C.: Cornelius company wins financing from Surry Bank for $15 million project.
-jsq
Short Link: