The most obvious risk of that proposed natural gas pipeline was seen in another one Monday through today in Oklahoma (and Texas and Kansas): explosion and fire. The pipeline proposed for here would be 44% bigger; maybe we could have an explosion seen from Florida and Alabama!
CBS News reported today, Okla. pipeline blast sparks huge blaze, spurs evacuations,
Deputy Cliff Brinson, of the Harper County Sheriff's Department, says the fire sounded like four roaring jet engines and had flames reaching two football fields high.

He says no injuries were reported, and residents within two miles of the blast were evacuated.

A family of three living in a home about 200 yards away escaped unharmed, authorities say.
By the time the pipeline company, Northern Natural Gas, released a statement they called it "a flicker".
Video by Spencer Albracht: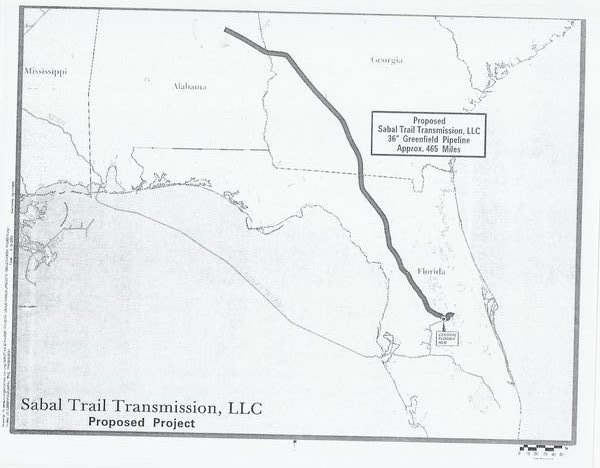 That "flicker" came from a 30″ pipeline. The one Spectra Energy's subsidiary Sabal Trail Transmission wants to build through Lowndes County would be even bigger, 36 inches, according to Sabal Trail's own letters to landowners. That's 44% more area inside the pipeline. We could have an even bigger explosion; should be visible from Florida; maybe even Alabama.
CBS Oklahoma City affiliate KWTV received numerous phone calls and e-mails from viewers saying blaze could be seen from southern Kansas and across the Oklahoma Panhandle.

75 firefighters from Oklahoma, Kansas and Texas were on the scene and, despite the size of the flames, the fire was considered under control.

The blast rang out at 11:35 p.m. ET, and authorities shut down nearby Highway 283 as a precaution.
How about we cancel the pipeline as a precaution and build solar panels instead? More energy for less investment, and I never heard of a solar panel exploding.
-jsq
Short Link: