Meanwhile, about a thousand miles north of us, a 750 kilowatt solar array opens in Buffalo, New York.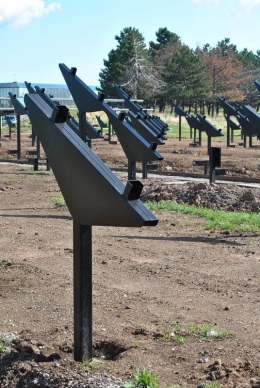 According to PR of yesterday from the University at Buffalo, UB's 3,200-Panel 'Solar Strand' to be Dedicated at Opening Ceremony: Will provide enough electricity to power hundreds of student apartments on campus,
In celebration of Earth Day and to promote clean, renewable energy development, the University at Buffalo and New York Power Authority (NYPA) will dedicate the UB Solar Strand, the 3,200-panel photovoltaic array, at an opening ceremony on Monday, April 23.
Those panels seem inclined quite a bit more than ones around here. That's because UB is at 43 degrees north latitude, way north of our 31 degrees. And there's a lot less sun up there, too. Yet they just installed a solar array more than twice as big as the 350 KW array in Valdosta.
UB is a university, and it uses the project for more than a single practical purpose:
Continue reading