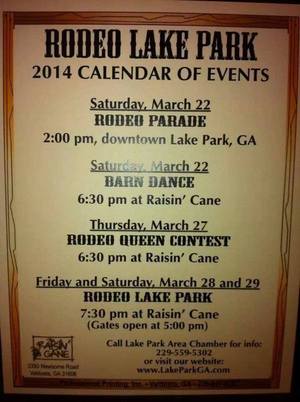 Bull riding, barrel racing, calf roping, for the first-ever Lake Park Rodeo, at Raisin Cane, 3350 Newsome Road, gates open 5PM, events start 5:30PM, tonight (Friday) and tomorrow (Saturday). Fun, community, and lots of business and political leaders.
Kay Harris wrote for the VDT 23 March 2014, Rodeo Lake Park a big event this week,
A small community can do great things when everyone comes together, and Lake Park folks are definitely coming together for this event.

Support the rodeo this week in Lake Park!
-jsq