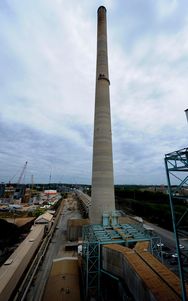 Georgia Power is raising rates in January, despite its recent announcement that it would lower rates because of lower fuel bills. Why raising? Mostly the new nukes and for a new natural gas plant. And 16% of the rise is for energy efficiency. Does that seem like the right proportion to you?
Kristi Swartz wrote for the AJC 1 Nov 2012, Georgia Power bills to increase,
The average Georgia Power bill will increase about 44 cents a month starting in January, not decrease as many might have expected when the company announced last month its fuel costs had dropped.

The utility, which serves 2.4 million customers, notified state regulators in October that it would be applying for a residential rate reduction because the amount it pays for fuel has fallen 7 percent, saving $122 million. The utility cannot profit from lower fuel costs and must pass those savings on to customers.
So why are customer rates going up?
About $1.05 of the typical residential bill will go toward paying for a new natural gas unit at Plant McDonough-Atkinson in Smyrna. That increase already was approved as part of a three-tiered rate hike set in 2010.
Yep, that's that set-in-2010 and keep-rising-'till-2013 natural gas rate hike that Georgia Power got away with while complaining about any potential solar subsidies. The one AJC complained would be "on autopilot": Continue reading →