Update 2023-03-13: Videos: One rezoning each, Valdosta and Lwondes County @ GLPC 2023-02-27.
The one Valdosta case before the Greater Lowndes Planning Commission tomorrow evening is for rezoning 1.76 acres from R-6 to R-M at 915 West Street, "to develop it as an apartment complex with 12 dwelling units."
The one Lowndes County case is for rezoning about 8 acres from R-1 (Low Density Residential) to P-D (Planned Development) on Janes Road at Smith Street. That's all I know, because the county has still not sent the relevant board packet materials in response to a LAKE open records request. As a placeholder, I put in a map from the Lowndes County Tax Assessors.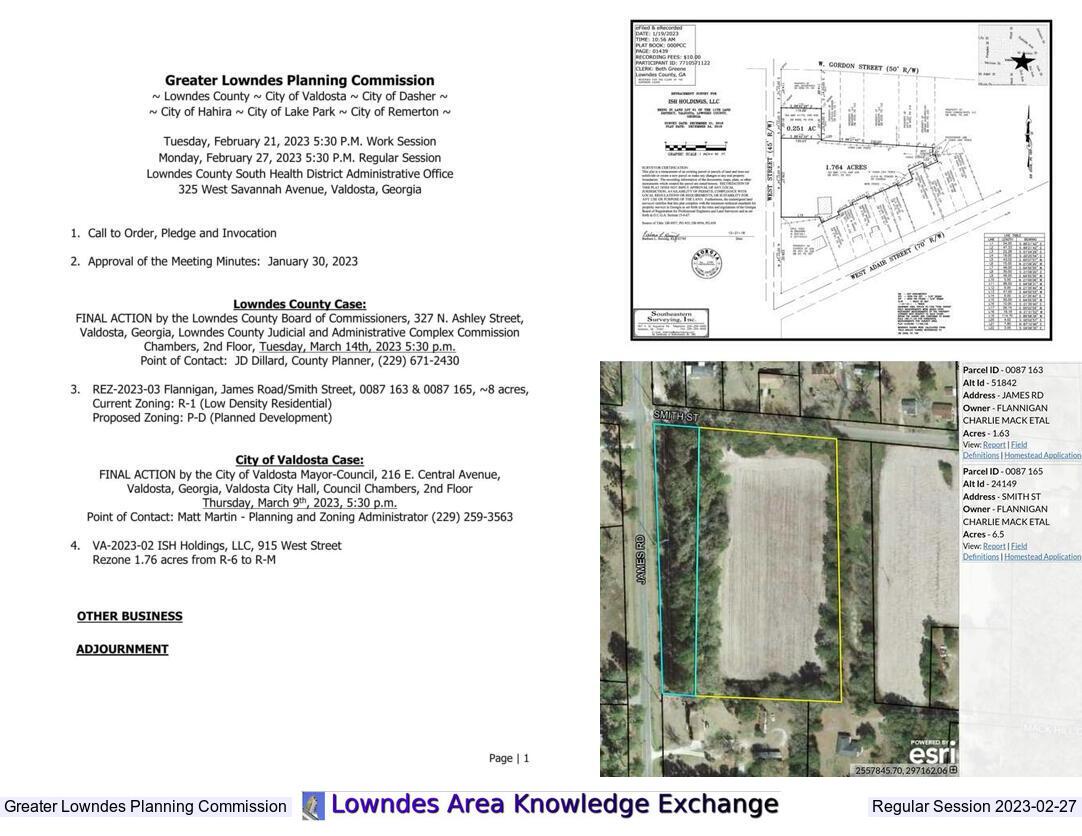 Valdosta and Lowndes County cases @ GLPC 2023-02-27
Here is the agenda. The board packet materials that Matt Martin sent on February 14, 2023, is on the LAKE website, and images from it are below after the agenda.
Greater Lowndes Planning Commission
~ Lowndes County ~ City of Valdosta ~ City of Dasher ~
~ City of Hahira ~ City of Lake Park ~ City of Remerton ~

Tuesday, February 21, 2023 5:30 P.M. Work Session
Monday, February 27, 2023 5:30 P.M. Regular Session
Lowndes County South Health District Administrative Office
325 West Savannah Avenue, Valdosta, Georgia

Call to Order, Pledge and Invocation
Approval of the Meeting Minutes: January 30, 2023

Lowndes County Case:

FINAL ACTION by the Lowndes County Board of Commissioners,
327 N. Ashley Street, Valdosta, Georgia, Lowndes County Judicial and Administrative Complex Commission Chambers, 2nd Floor,
Tuesday, March 14th, 2023 5:30 p.m.
Point of Contact: JD Dillard, County Planner, (229) 671-2430

REZ-2023-03 Flannigan, James Road/Smith Street, 0087 163 & 0087 165, ~8 acres, Current Zoning: R-1 (Low Density Residential) Proposed Zoning: P-D (Planned Development)

City of Valdosta Case:

FINAL ACTION by the City of Valdosta Mayor-Council,
216 E. Central Avenue, Valdosta, Georgia, Valdosta City Hall, Council Chambers, 2nd Floor
Thursday, March 9, 2023, 5:30 p.m.
Point of Contact: Matt Martin—Planning and Zoning Administrator (229) 259-3563

VA-2023-02 ISH Holdings, LLC, 915 West Street Rezone 1.76 acres from R-6 to R-M

OTHER BUSINESS

ADJOURNMENT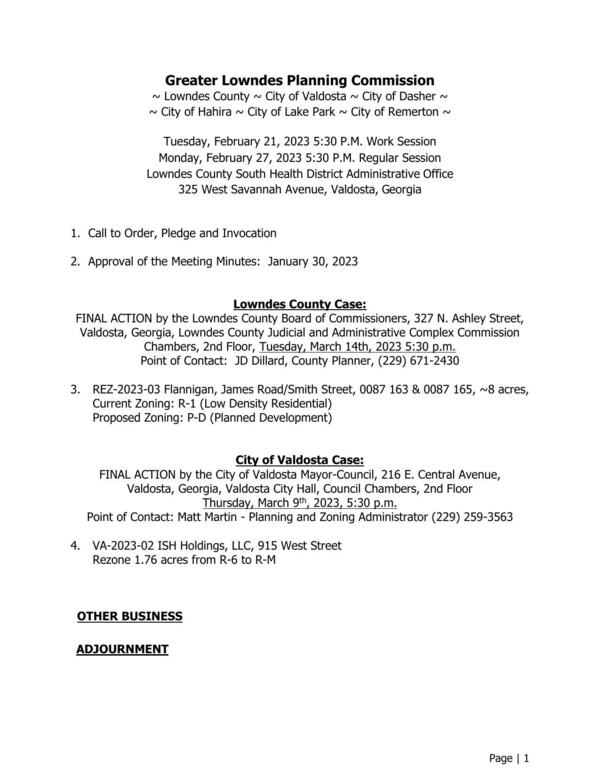 One Lowndes County and One Valdosta Case
PDF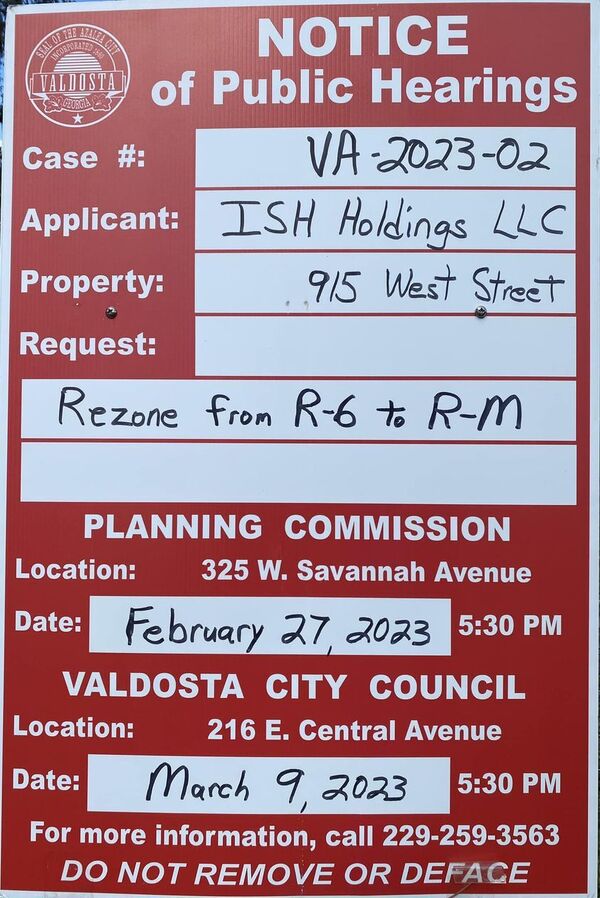 Rezoning Sign, VA-2023-02, ISH Holdings, LLC, 915 West Street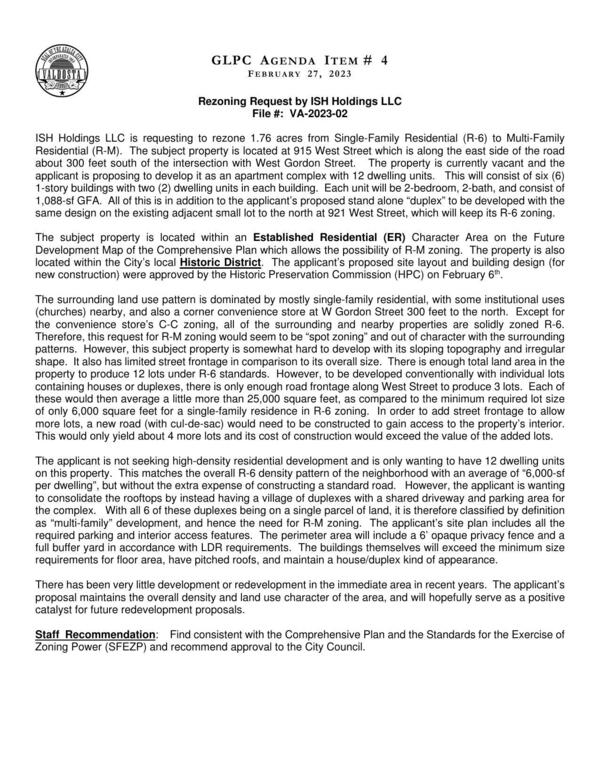 to develop it as an apartment complex with 12 dwelling units.
PDF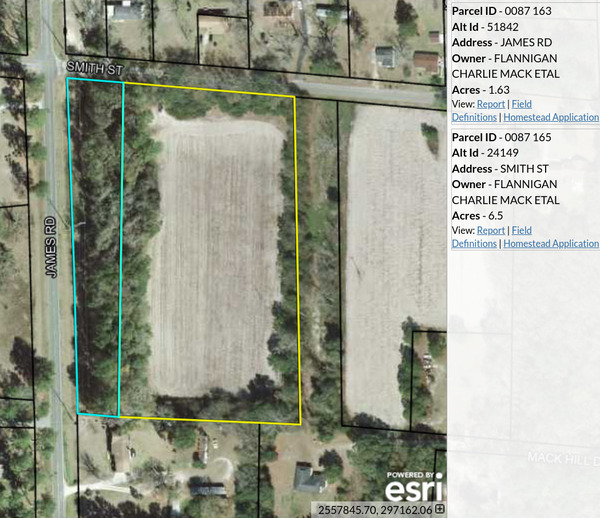 0087 163 & 0087 165, ~8 acres, Current Zoning: R-1 (Low Density Residential) Proposed Zoning: P-D (Planned Development) –Lowndes County Tax Assessors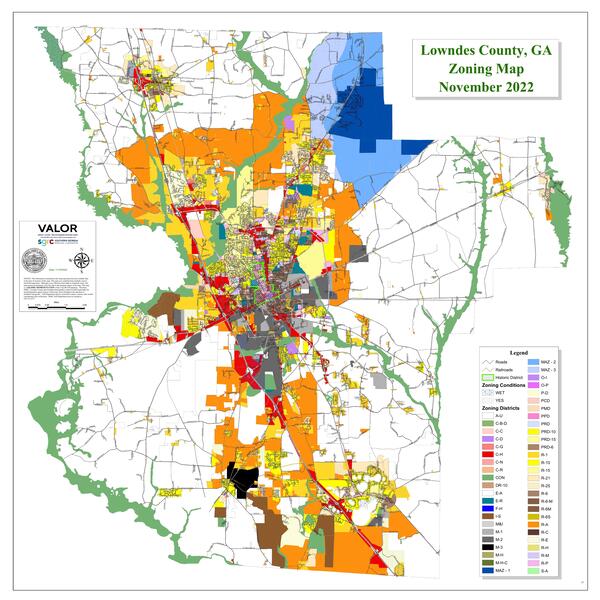 Lowndes County, GA, Zoning Map, November 2022, from VALORGIS
PDF
-jsq
Investigative reporting costs money, for open records requests, copying, web hosting, gasoline, and cameras, and with sufficient funds we can pay students to do further research. You can donate to LAKE today!
http://www.l-a-k-e.org/blog/donate
Short Link: