Good about the Georgia Broadband Deployment Inititative (GBDI): wired and wireless, and they are actively doing something, including mapping.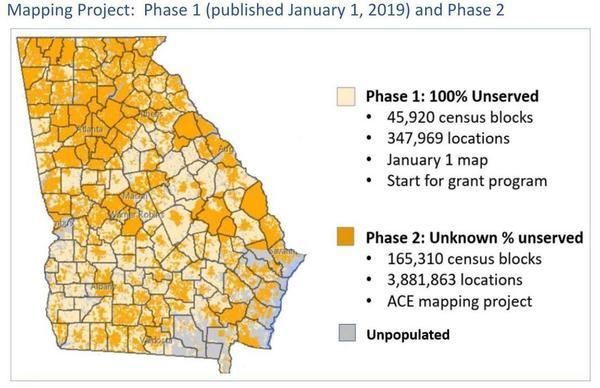 Map Phase 1
See also interactive Phase 1 map.
Dubious: stakeholders are only "private telecom and cable providers, local government, and electricity cooperatives".
Where are universities, technical colleges, doctors and hospitals, local businesses, nonprofits, and the people? Supposedly "Community partnership will be a central component", but where is the community in GBDI's plans? Where are the other stakeholders? Where are the public hearings?
Maybe that's farther along in their timeline:
But the rest of the community is not obvious in their milestones thus far.
Several key GBDI features are buried deep in the April 26, 2019 Georgia Broadband Plan document. On page 9:
The goal of the proposed grant program is simple: to provide a mechanism to tweak the economics for providers and to encourage them to expand 25/3 broadband service to unserved areas, should public funding be made available.
Even AT&T can do gigabit speeds when competing with google fiber. In August 2012 I suggested using 4G wireless as part of the mix. Yes, tweak the economics by making it clear somebody is going to do it.
The cover letter says " legislation was passed in 2018 to promote broadband deployment in areas not currently served at a minimum broadband speed of 25 Mbps download and 3 Mbps upload (25/3)." Presumably this refers to GA SB 402 of 2018, the "Achieving Connectivity Everywhere (ACE) Act". Yes, that's what broadband.georgia.gov says.
The key ACE definitions are:
50-39-1. As used in this chapter, the term:
(1) 'Broadband network project' means any deployment of broadband services.
(2) 'Broadband services' means a wired or wireless terrestrial service that consists of the capability to transmit at a rate of not less than 25 megabits per second in the downstream direction and at least 3 megabits per second in the upstream direction to end users and in combination with such service provides:
(A) Access to the Internet; or
(B) Computer processing, information storage, or protocol conversion.
The state of Georgia did not get stuck where the County of Lowndes always has previously, in thinking of broadband as only physical connectivity through wires, coax, or fiber. The key phrase is "or wireless".
Verizon 4G has been available in Lowndes County at least since September 2012.


AT&T DSL


Verizon 4G
In January 2013 I noted wireless could be a key broadband component, and asked "Who among our elected leaders, or other organizations such as the Chamber, is willing to step up and start an open process to get us fast Internet access?" GBDI is a process, but I don't know that I would call it an open process.
In February 2013, Angela Crance of Wiregrass Tech said broadband is a top priority, and " It's definitely a priority for us…. Only 14% of our citizens have a college degree and we need 70% to have a college degree within ten years. To be able to accomplish that we'd better have the right schools that have these students here. We want them to come here we want them to go to school and graduate and stay here with the jobs. And to do that we've got to have the infrastructure in place to help us accomplish that."
Crance wasn't just talking about Valdosta or Lowndes County; she explicitly refered to needing broadband in the eleven counties Wiregrass Tech serves.
At the same meeting, Mary Gooding spoke for VSU, saying it is "a huge strategic initiative for our community".
Lowndes County Chairman Bill Slaughter said broadband is "one of the number one issues".
That was at a meeting of the Valdosta-Lowndes Industrial Authority, whose chair at the time, Roy Copeland, said of the Chairman's assertion, "we're on board with that.".
However, VLCIA Executive Director Andrea Schruijer summed it up: "I don't want to say we don't have broadband."
The only person to speak up at that meeting about a bad bill in the Georgia legislature that would have limited municipal broadband was Gretchen Quarterman, the only person in the room with actual experience in Internet deployment. Fortunately, that bill was defeated, maybe with the assistance of some of the elected or appointed officials in that room, and with half the local legislative delegation voting against it.
Well, it's six years later and we still don't have broadband.
In July 2013 I asked Valdosta Mayor John Gayle why I hadn't seen anything about Internet access in either Valdosta's or Lowndes County's SPLOST lists? He said that was because it was being handled by the Community Assessment Group (CAG). Which turned out to be a group of representatives from the county and all the local cities, the two school districts (Valdosta and Lowndes County), VSU, Wiregrass Tech, the Industrial Authority, the Chamber, etc. He said they had identified three top issues: Moody AFB, broadband, and SPLOST. Too bad they never did anything about broadband.
In addition to the many reasons Wiregrass Tech, VSU, and VLCIA gave for needing broadband, Broadband fiber correlates with increased house prices. Also, broadband adoption by the general population improves rural economic health, and this one is causation, not just correlation.

County-level Household Broadband Adoption Rates, 2010; see Broadband's Contribution to Economic Health in Rural Areas: A Causal Analysis, Brian Whitacre, Oklahoma State University; Roberto Gallardo, Mississippi State University; Sharon Strover, University of Texas at Austin, presented at the Telecommunications Policy Research Conference, September 2013.
Way back in May 2012 I spoke to the Lowndes County Commission about lack of fast Internet access on Hambrick Road, and mentioned the subject the next month in the VDT. That same May I noted Georgia Public Web, which since 1998 has been a member-owned nonprofit corporiation providing high-speed fiber links as far south as Thomasville and Valdosta, which could server as a nucleus for more ambient broadband access.
In the first few months of 2019, AT&T has been running fiber east out of Hahira down GA 122, past ValDel Road, past Skipper Bridge, past Cat Creek. Will that service take a turn down Hambrick Road and serve those living there? Can't we use that via for example the wireless tower on Hambrick Road to get real broadband on Hambrick Road and Quarterman Road for less than the exorbitant price Verizon currently charges?
The GBDI Phase 1 map claims Quarterman Road and Hambrick Road are "Served". Think again, GBDI. If "Community partnership will be a central component", maybe you'd like to listen to the community beyond government and service provider stakeholders. Maybe even listen to the people who need to use the Internet.
-jsq
Investigative reporting costs money, for open records requests, copying, web hosting, gasoline, and cameras, and with sufficient funds we can pay students to do further research. You can donate to LAKE today!
Short Link: