How much solar power is there in Georgia? Quite a bit, and it's everywhere, according to Georgia Energy Data map by Southface.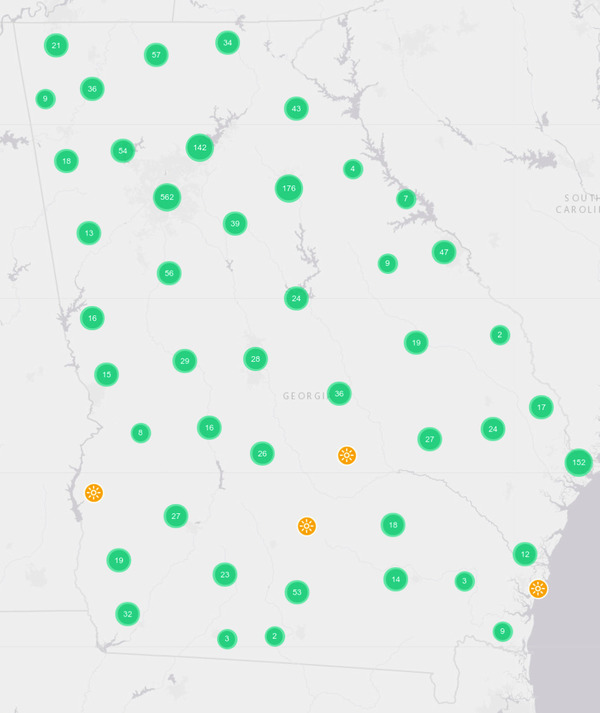 Gold disks indicate individual solar installations; green disks separate into many when zoomed.
There are three 1 megawattt (MW) solar farms in Berrien County I didn't know about, and more elsewhere in the Suwannee River Basin, in almost every county.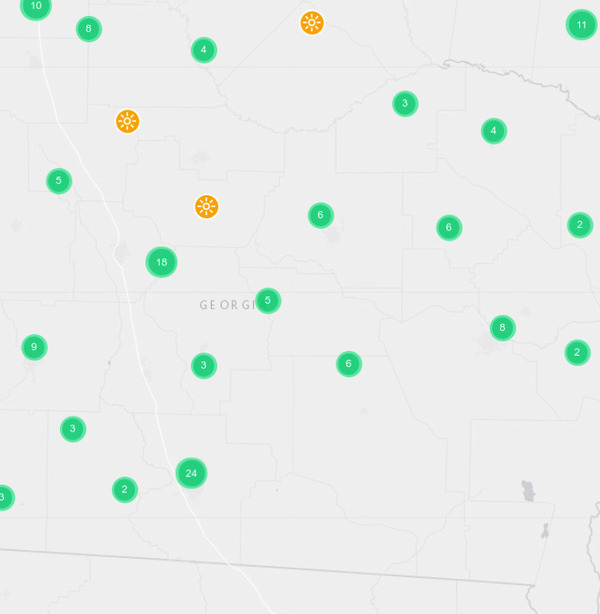 They even have my two in Lowndes County, which I count as 3 MW and 12 MW AC, but for some reason they rate as somewhat more megawatts and in DC.
In and around Valdosta there are enough that more panning and zooming than this would be required to look at all of them.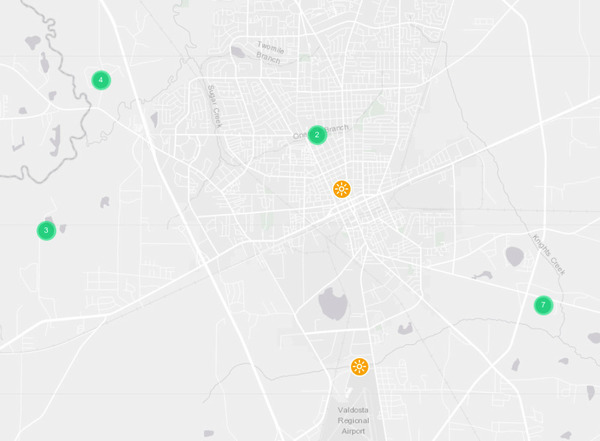 According to Southface there are 1,961 solar installations in Georgia, with 1,321.79 MW of capacity, and annual solar production of 1,976,039.37 megawatt hours (MWh).
How much of solar power in Georgia is at military bases? Well, that map does not seem to include any of the military solar installations, at least a quick pan shows nothing at Moody AFB, Fort Stewart, or Kings Bay.
Georgia Power, press release, 16 May 2017, Georgia Power announces new 139-MW solar project at Robins Air Force Base,
ATLANTA, May 16, 2017 /PRNewswire/ — Georgia Power has announced plans to build a new 139 megawatt (MW) solar facility adjacent to Robins Air Force Base (AFB) in Warner Robins, Georgia, just south of Macon. The project was approved Tuesday by the Georgia Public Service Commission (PSC) and will be the sixth large-scale solar project to be developed by Georgia Power working with the United States military and the Georgia PSC. The Warner Robins facility will be the largest single solar project to date to be constructed by Georgia Power….

Georgia Power currently owns and operates 120 MW of large-scale solar facilities now online at Georgia military bases, including projects with the U. S. Army at Fort Benning, Fort Gordon and Fort Stewart and with the Department of the Navy at SUBASE Kings Bay. In addition, the company is currently building a 31 MW solar facility at Marine Corps Logistics Base Albany.
So 139 + 120 = 259 MW of military solar power in Georgia. Add that to the other 1,321.79 MW for 1,580.79 MW. Which is very close to what SEIA says:
Georgia Solar

Data Current Through: Q4 2018

Solar Installed (MW): 1,570.83

National Ranking: 11th (35th in 2018)

Enough Solar Installed to Power: 188,015 homes

Percentage of State's Electricity from Solar: 1.72%

Solar Jobs: 3,696

Solar Companies in State: 259 (51 Manufacturers, 110 Installers/Developers, 98 Others) Total Solar Investment in State: $2,209.82 million

Prices have fallen 47% over the last 5 years

Growth Projection and Ranking: 2,297 MW over the next 5 years (ranks 10th)

Number Of Installations: 1,640
Close enough for my purposes, which is to get some ballpark estimates, not exact figures.
Now divide 139 by 1,580.79 for 8.8% military solar power in Georgia.
Sure, there are plenty of other solar-powered military bases, many of them in the southeast, handled by Southern Company: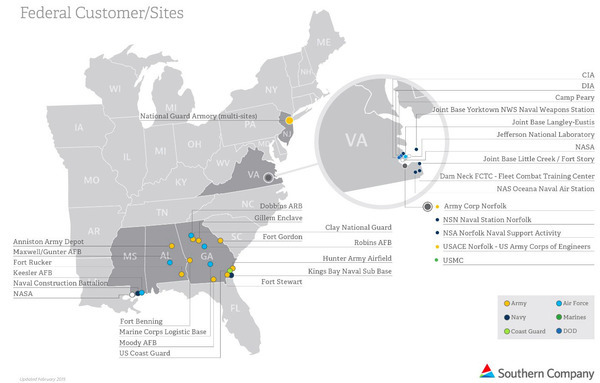 Pentagon Partnership, Southern Company, unknown date.
The U.S. Dapartment of Defense is the world's largest user of fossil fuels, so military use of solar is to be commended, with Georgia leading the way.
But that Warner Robins plant is not the largest in Georgia. For example, Kelsey Misbrener, Solar Power World, 9 November 2018, First Solar starts construction on largest solar plant in Georgia,
Leaders representing the coalition of organizations contributing to the largest solar power plant in Georgia gathered today to celebrate start of construction. The ceremonial groundbreaking brought together state officials, Georgia Power, Georgia Public Service Commission, Twiggs County Commission, Origis Energy and First Solar representatives to extoll the benefits of the 200-MW, GA Solar 4 project, located in Twiggs County, Georgia.
Georgia Power doesn't have to and does not build all the solar power installations it buys power from.
And there are a couple dozen Georgia Electric Membership Cooperatives (EMCs), "member-owned, not-for-profit utilities that serve approximately 4.4 million of Georgia's 10 million residents and 73 percent of the state's land area." Many solar farms connect to EMCs, rather than to Georgia Power.
So, Georgia Power does not run the whole story of solar power in Georgia, and military solar power in Georgia is only a small fraction of the story.
-jsq
Investigative reporting costs money, for open records requests, copying, web hosting, gasoline, and cameras, and with sufficient funds we can pay students to do further research. You can donate to LAKE today!
Short Link: