According to the calendar on lowndescounty.com:
When: 8:30 AM, Tuesday, June 19, 2018
Where:
327 N. Ashley Street 2nd Floor, Valdosta, GA 31601 What: No agenda is posted.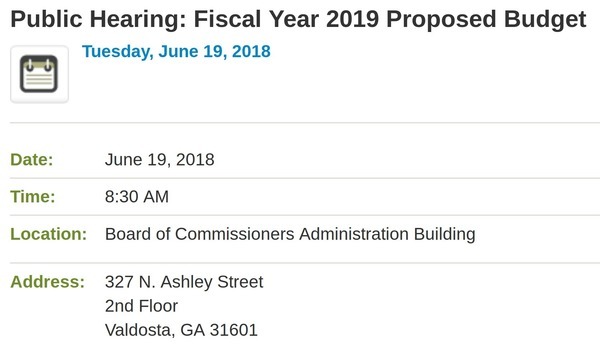 On the Finance Department's web page, The most recent budget document is the Fiscal Year 2018 Operating Budget, and the most recent financial report is the Comprehensive Annual Financial Report, July 1 2016 — June 30, 2017. If they have posted a draft budget, I can't find it.
-jsq
Investigative reporting costs money, for open records requests, copying, web hosting, gasoline, and cameras, and with sufficient funds we can pay students to do further research. You can donate to LAKE today!
Short Link: