Yesterday the Valdosta Board of Education voted for the sun.
No byline, WCTV, 14 Feb 2018, Valdosta City Schools votes to lease land to solar company,
The school system will begin leasing some of its extra property to the solar energy company Radiance Solar.

Radiance Solar will reportedly pay $30,000 per year to lease the land, and the agreement is for 25 years. VCS says the money will go back into the school system.

Radiance Solar will construct a 1.5 megawatt solar array near the transportation hub.
From the VBOE agenda:
15. A. Radiance Solar ground lease – Dr. Todd Cason – action required
That has linked into it the lease option agreement and a map, which is the one shown above.
This site is south of the current Valdosta High School, across Eastwind Road and a parking lot in land owned by the school system.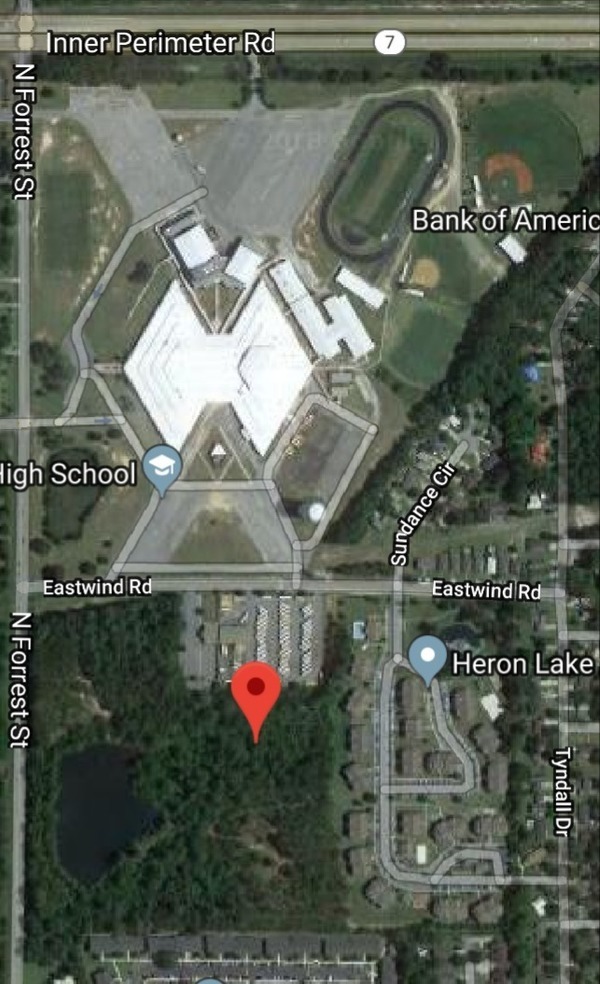 And the site is only 2.5 miles by road or five minutes from the new Valdosta High School.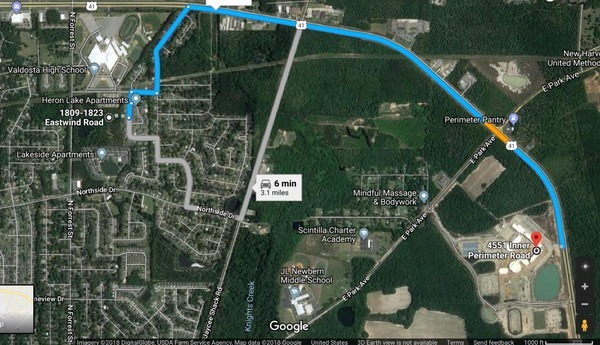 VBOE has been talking about this for some time. Kimberly Cannon, Valdosta Daily Times, 26 Jan 2018, Pinevale Elementary paid off,
Superintendent Dr. Todd Cason provided the board an update on a possible solar project with Radiance Solar, which was discussed during the October 2017 board meetings.

As part of the project, Radiance Solar would pay to lease land from VCS and place solar arrays on the property then sell the power generated to Georgia Power as part of the Renewable Energy Development Initiative program.

During the Oct. 24, 2017, meeting, the board voted to give Radiance Solar the authority to submit a letter of intent application to Georgia Power for two VCS properties, one for unused land at the transportation department and one for unused land at Pinevale Elementary.

Cason told the board during the Tuesday meeting the transportation department property was selected.

"We could earn, for 25 years, $30,000 a year," Cason said of the possible solar project.
So, what about the Lowndes County Board of Education, and all the other school systems round about? Got any unused land or rooftops you'd like to have earning solar income? Wish I'd though of that, oh, five years ago.
-jsq
Investigative reporting costs money, for open records requests, copying, web hosting, gasoline, and cameras, and with sufficient funds we can pay students to do further research. You can donate to LAKE today!
Short Link: