Update 2018-01-28: LAKE videos of Valdosta Mayor and Council talking about $406 million and 25% discretionary funds which can be used for things like public transportation.
Preparing for a vote on the May 22, 2018, primary election ballot, SGRC is holding two public meetings next week to review what the regional roundtable has come up with for a project list for a regional one-percent sales tax. Most of the projects, ranging from $18 thousand to $26 million dollars, are for roads and bridges, but there are also sidewalks and one airport tower light. There is nothing in the project list for public transportation, but 25% of the funds are not on the project list, and counties or cities could choose to use some of those funds for example for paying for the urban area parts of trips by the Lowndes County MIDS on-call bus service.
When: 4-6PM, Monday, January 29, 2018
Where: Pearson Sports and Civic Complex,
786 Austin Avenue East, Pearson, Georgia
When: 10AM-6PM, Tuesday, January 30, 2018
Where: Southern Georgia Regional Commission Valdosta Office,
327 West Savannah Ave. Valdosta, Georgia

Estimated Revenue Distribution by Jurisdiction, Southern Georgia Regional Transportation Sales Tax
SGRC Press Release, 19 January 2018, Public Meetings Set for Transportation Sales Tax Project List,
The Executive Committee of the Southern Georgia Regional Transportation Roundtable has set a series of public meetings to allow for review of the Draft Constrained Investment List for the following counties, representing the special district for a proposed regional transportation sales and use tax: Atkinson, Bacon, Ben Hill, Berrien, Brantley, Brooks, Charlton, Clinch, Coffee, Cook, Echols, Irwin, Lanier, Lowndes, Pierce, Tift, Turner, and Ware.

The Transportation Investment Act of 2010 is a law prescribing the process to call for a regional sales tax referendum for transportation projects. The regional transportation sales tax process is a mechanism for voters in the region to enact a regional sales tax for transportation purposes. The law allows a region to implement a one percent sales tax to fund transportation projects, such as pavement maintenance, road construction, bridge, safety, transit, aviation, bicycle, and pedestrian projects. This Transportation Sales Tax process began in the Southern Georgia region in early 2017 when a majority of the counties within the Southern Georgia region passed resolutions to initiate the process for a regional transportation sales tax. Previously in 2012, voters in this region voted down a similar regional transportation sales tax.

Over the past six months, The Executive Committee of the Roundtable has met several times to select the projects presented in this draft list. The Executive Committee reviewed each project and how it best met the needs of the region, and worked to make sure the proceeds of the sales tax are divided equitably throughout the region. The Executive Committee selected 150 projects, totaling more than 296 million dollars. These projects are located throughout the region and each county is represented by at least one project on the list. This sales tax is estimated to generate more than 513 million dollars over the next 10 years for transportation purposes. Twenty-five percent of the proceeds or 128 million dollars will be divided by formula to each city and county in the region. If the sales tax is passed by the voters, local jurisdictions will also see a reduction in the match they pay on annual LMIG (Local Maintenance Improvement Grant) funds they received from the Georgia Department of Transportation from 30-percent to 10-percent, an additional savings of more than 24 million dollars over 10 years to each city and county in the region.

In January, the following public meetings will be held so the public can comment on the Draft Constrained Investment List. Two public meetings will be held at the following locations, the Draft Constrained Project List will also be available online at http://www.sgrc.us/regional-roundtable.html">.
The public meetings are as listed above, and the project list is online now.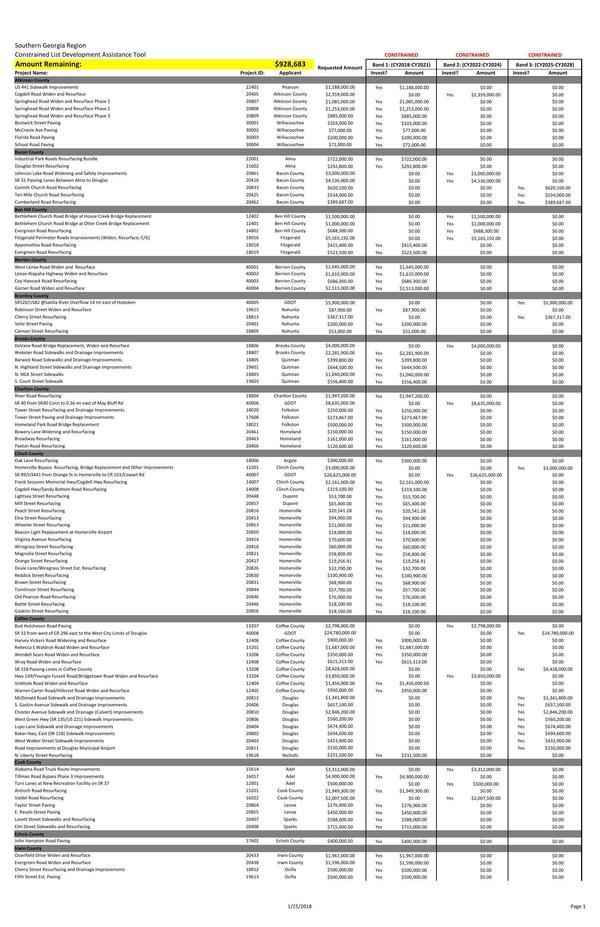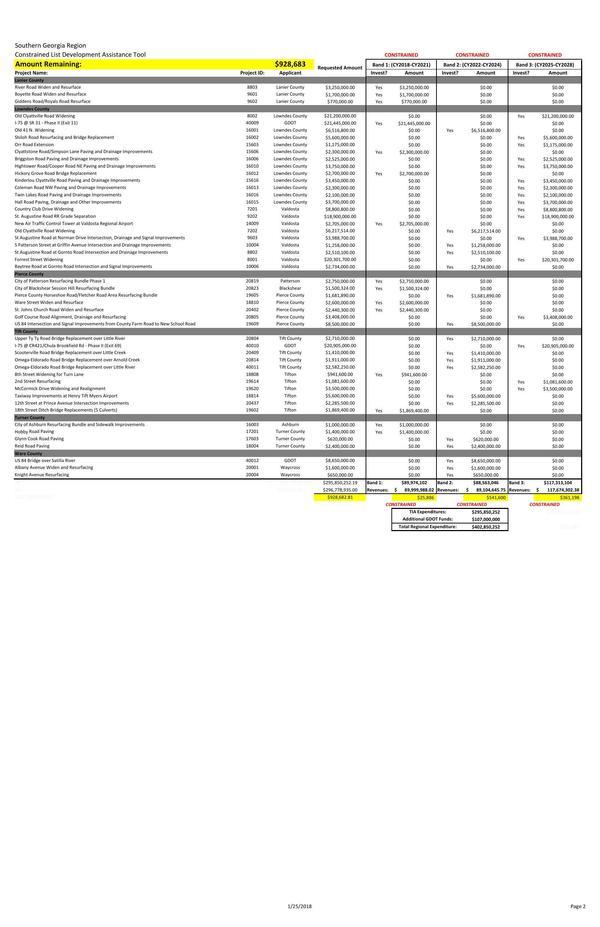 The SGRC PR concludes:
After the public meetings the Regional Transportation Roundtable will reconvene on February 13, 2018 to review the public comments and adopt a Final Constrained List that will be presented to voters on the May 22, 2018, general primary ballot.

For more information about the Regional Transportation Sales tax, please contact Corey Hull at the Southern Georgia Regional Commission at 229-333-5277 or via email at chull@sgrc.us.
The agenda for the previous roundtable Executive Committee meeting of January 17, 2018 says the Febuary 13, 2018, meeting will be in Pearson. Its Chair is John Gayle, Mayor of Valdosta.
-jsq
Investigative reporting costs money, for open records requests, copying, web hosting, gasoline, and cameras, and with sufficient funds we can pay students to do further research. You can donate to LAKE today!
Short Link: