Before the names of the dead were read by 50 of the crowd that numbered at least three times as many; before the moment of silence and the prayer and the thanks to all the first responders and police who assisted at the scene in Orlando; this evening at St Barnabas Church on Bemiss Road one speaker said we could choose to focus on the person who did this horrible thing in Orlando, or we could choose to focus on fear, but as for her and her house, she chooses love: go out and do something for your neighbor.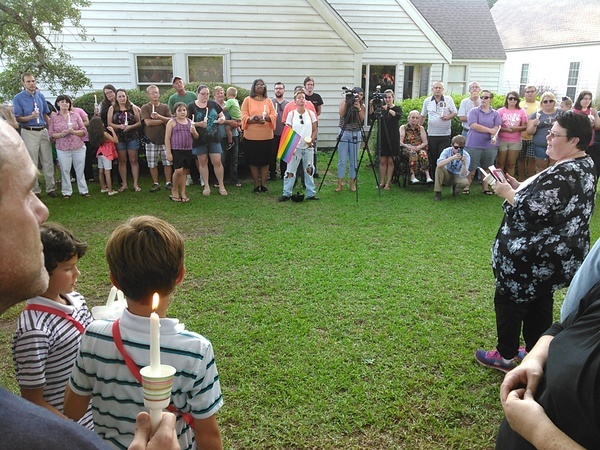 The gathering also served as a sort of anniversary celebration for one of the first same-sex marriages in Lowndes County, GA, downtown at the courthouse June 26th 2015. The same TV reporter as a year ago interviewed the happy couple again.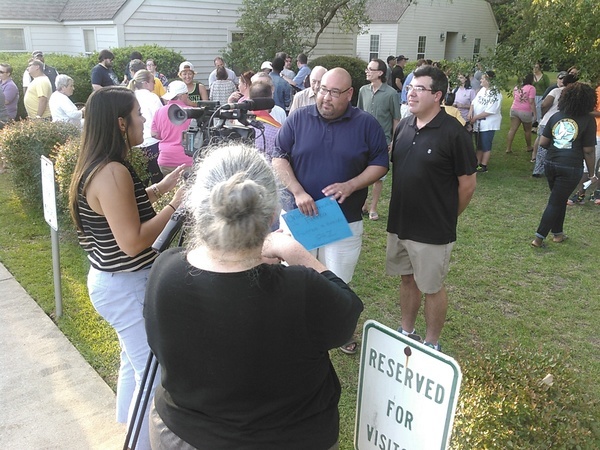 This event was outside Valdosta City Limits, so I suppose the Mayor didn't need an excuse like when he refused to proclaim a Gay Pride event or he refused to sign an anti-bullying proclamation. But where were all the Lowndes County elected officials? At least there was one Sheriff's deputy: thanks to him and his department for standing watch for all the people of the county.
-jsq
Short Link: