Most people wanted to know which roads would be paved when, in Bemiss, to Alapaha Subdivision, and next to the new Civic Center.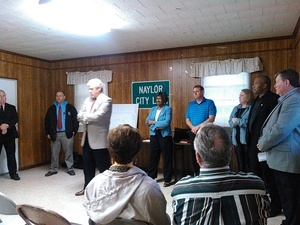 They did also talk about the planned new civic center and the Alapaha Boatramp they're building.
I thank the Chairman for clarifying his remark about paving every road in the county. He and other county officials also went on about safety being a big concern, which is news to me, on my road the county insisted on paving that became a drag race track. And what's this about county regulations for every road? Where are they, and can we see them?
Commissioner Joyce Evans (District 1) said they would start by asking for concerns, Tony Sermons (local pastor) gave an invocation, County Manager Joe Pritchard introduced the staff, and Chairman Bill Slaughter praised Evans.
Slaughter then fielded the first question, about when a road near Bemiss would be paved. He said the ultimate goal was to pave all roads in the county. I asked him for clarification on that later in the meeting. Pastor Sermons was one of many attendees who asked road paving questions, especially about dirst Savannah Rd N.E. that goes to his church, St Mary Missionary Baptist Church.
Here's the agenda that was handed out:
Naylor Community Town Hall Meeting
April 14, 2016

Welcome
Staff reports
Project Updates

Naylor Community Center
Boat Ramp

Additional Questions and Comments
Adjourn
People wanted to know if "a community" (a subdivision development) wanted to go in, would the road be paved? Answer: yes, because the developer would have to pay for it.
Road closings were another popular topic.
County Commissioners attending: Chairman Bill Slaugter, Joyce Evans (District 1), Demarcus Marshall (District 4), Clay Griner (District 5, arrived towards the end).
County staff attending: County Manager Joe Pritchard, County Engineer Mike Fletcher, Utilties Director Steve Stalvey, County Clerk Paige Dukes, Valdosta-Lowndes County Parks & Recreation Executive Director George Page.
Here are links to each LAKE video, with a few notes, and at the end there's a video playlist.
Here's a video playlist:

Road paving and Alapaha BoatRamp in Naylor Town Hall @ LCC 2016-04-14
Road Paving, Civic Center, Alapaha Boatramp,
Naylor Town Hall, Lowndes County Commission (LCC),
Video by John S. Quarterman for Lowndes Area Knowledge Exchange (LAKE),
Valdosta, Lowndes County, Georgia, 14 April 2016.
-jsq
Short Link: