Lowndes County website, 17 February 2016, Commission Meetings Canceled:
Due to a lack of agenda items requiring attention at this time, the Lowndes County Commission Meetings scheduled for Monday, February 22, 2016, at 8:30 am and Tuesday, February 23, 2016, at 5:30 pm, have been canceled.
The VDT 17 February 2016 quoted County Clerk Paige Dukes:
"The meetings and agendas are driven by the business of the county. It didn't make sense to use the people's resources to make time for a meeting."
Privatizing trash collection and then suing a local business on behalf of a company with investors in New York City, though: that made sense, apparently.
Spending money to build this county palace in which they meet also apparently made sense: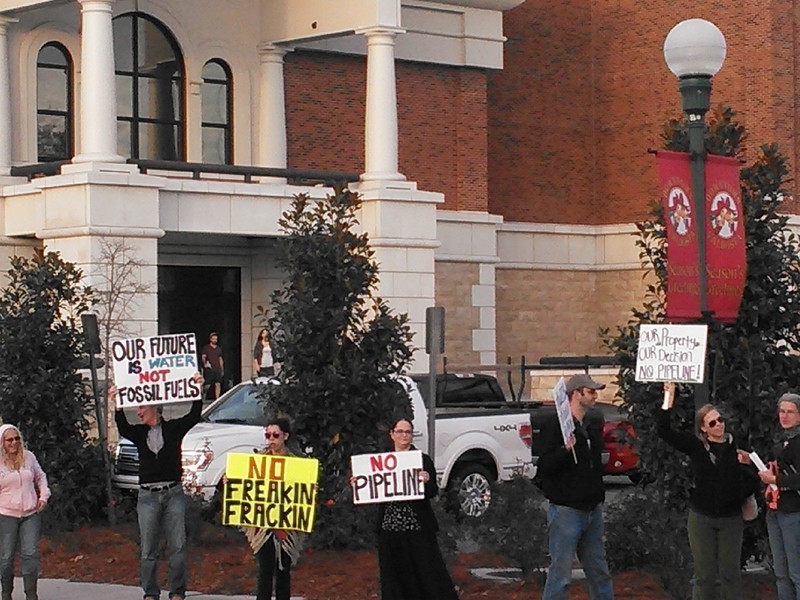 I took that picture one year to the week before the County Commission voted a fine resolution agains Sab al Trail. Unfortunately a bit more than a year later, they voted to take $54,300 from Sabal Trail for a pipeline easement through the closed landfill near Clyattville. We still don't even know whether that was the first offer. Any one-time payment would be too little for facilitating that unnecessary, destructive, and hazardous fracked methane boondoggle.
Conveniently for the Commission, no meetings means no citizens standing up at the end and complaining about that.
-jsq
Short Link: