90-second movie trailers of local issues, tonight at 7PM, Bailey Auditorium, VSU, Valdosta, Lowndes County, GA. We sent in some submissions, and I hope you did, too; once we thought of them as trailers, it was pretty easy (by "we" I mean Gretchen").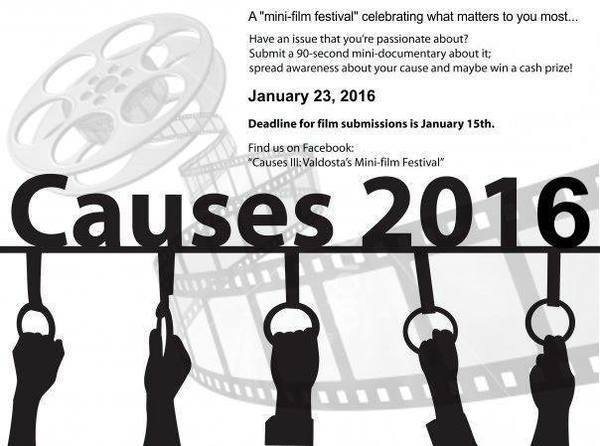 Desiree Carter, VDT, 22 Jan 2016, Valdosta State showcases 'Causes',
"Causes" is a mini-festival created by Dr. Matthew Richard in the anthropology department of Valdosta State University.

"I came up with this in 2008 when Facebook and YouTube were new," said Richard. "It's a neat way to challenge students and to show that things learned in class can be applied to real life."

To Richard, this project embodies the best in education by combining critical thinking and creativity.

"It allows students to look around local society and identify issues that they learn about," said Richard. "I think this project represents a very grassroots phenomenon. In a forum like this, it makes people reflect and it challenges people."

The festival has been hosted on and off for five years, with Richard learning something new from each experience.

"The first year, many made videos concerning global issues," said Richard. "I decided I wanted to focus on the local after that so that people would feel empowered and obligated to acknowledge the serious issues right here."

The 2016 festival will include roughly 25 videos, each lasting 90 seconds. Each entry was pre-screened and will be shown via YouTube. This format will allow for the videos to be posted on Facebook after the festival.
LIke Dr. Richard, I hope this becomes a VSU tradition. Partly because now that we know how to do it, it's a good format to summarize an issue.
-jsq
Short Link: