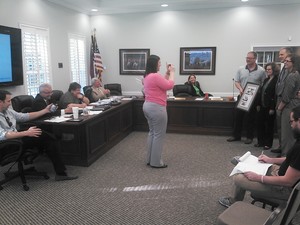 CJB and Hunt Industries received plaques with copies of Valdosta Daily Times articles about them. Their meeting tonight is cancelled; their next meeting is 19 May 2015, according to their website.
Their retreat was April 10th after the Georgia Logistics Summit March 31st – April 1st. The Summit is in Atlanta, according to its own website. If they said during their regular March meeting where their retreat was to be, I didn't catch it. Here's the agenda with links to the LAKE videos and a couple of still pictures.
Valdosta-Lowndes Development Authority
Tuesday, March 17, 2015 5:30 p.m.
Development Authority Conference Room
103 Roosevelt Drive
Monthly Meeting Agenda
General Business

Call to Order
Invocation
Welcome Guests

Minutes

Regular Meeting, February 17, 2015

Financial

Review Compiled Balance Sheet and Income Statements for February, 2015

Marketing and Community Relations Update

—Meghan Duke


CBJ with plaque

Community Relations

Existing Industry Spotlight

Marketing Activities

Project Report

—Andrea Schruijer/Stan Crance

Project Red Robin
Project Air
Project Belt
Project Talking Bird
Project Hood

Existing Industry

—Stan Crance

Existing Industry Visits
Existing Industry/Expansion Projects

Project Weld
Project Cold
Project Greensleeve

Community Business and Industry Partnership

2015 Georgia Logistics Summit (March 31 – April 1, 2015)

Executive Director's Report

—Andrea Schruijer

Locate South Georgia Regional Initiative
South Georgia Regional Alliance
VSU President's Advisory Council
Chamber Roundtable
Board Retreat, April 10, 2015

Attorney Report

Citizens to Be Heard


Hunt Industries with plaque

Adjourn General Meeting Into Executive Session

Adjourn Executive Session into General Meeting

Adjourn General Meeting

Mission of the Valdosta Lowndes Development Authority "Create an environment to attract new industry and promote the growth of existing industry to drive job creation and capital investment."
Here's a video playlist:

Videos: Going to Georgia Logistics Summit and retreating
Regular Meeting, Valdosta-Lowndes Development Authority (VLCIA),
Tom Call Chairman, Roy Copeland, Mary Gooding, Jerry Jennett, Terri Lupo, Andrea Schruijer, Executive Director, J. Stephen Gupton, Attorney, Tom Davis, CPA, Stan Crance, Existing Industry Coordinator,S. Meghan Duke, Public Relations & Marketing Manager, Lu Williams, Operations Manager,
Video by John S. Quarterman for Lowndes Area Knowledge Exchange (LAKE),
Valdosta, Lowndes County, Georgia, 17 March 2015.
-jsq
Short Link: